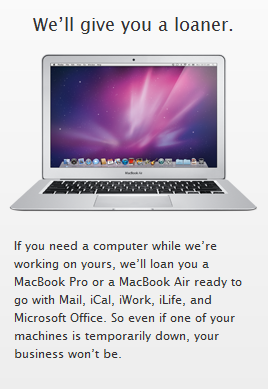 The Apple Joint Venture program has been mad official and offers a new way for Mac based businesses to get tech support without the need for a dedicated IT staff. The Joint venture programs brings priority support, phone support and even offers a loaner MacBook Pro with Microsoft Office if your MacBook needs to be kept overnight.
The cost of a Joint Venture subscriptions is $499, and it must be purchased when the Mac is purchased. The subscription lasts for a year and covers 5 devices, additional devices can be added for $99 a year.
The Apple devices which can be a part of the Joint Venture program include;
One (1) Mac Computer,
Two (2) Apple Cinema Displays,
One (1) iPhone,
One (1) iPod,
One (1) iPad, and
The following Apple-branded hardware peripherals associated with the System: mouse, keyboard, trackpad and storage device.
The service appears to be pricey, but when you consider the one on one training telephone support and loaner notebook, it could very well be a useful program for small businesses that can't afford downtime and want hassle free support.
Another added bonus is the ability to send your employees to an Apple Store for training, including the ability for the business owner to work with Apple to customize the training to the employees' needs.
Apple equipment must be registered within 14 days of purchasing Joint Venture and must be purchased from Apple.com or an Apple reseller. The iPhone can be purchased from an Apple Partner.
Advertisement