The new MacBook Pro models, introduced as the 2011 refresh, weren't even a day old when do it yourself repair sit iFixit took the aluminum clad notebook apart to show all of us what the inside of a MacBook Pro looks like. In doing so, iFixit found some design improvements, but also found a few quality control issues which left them concerned.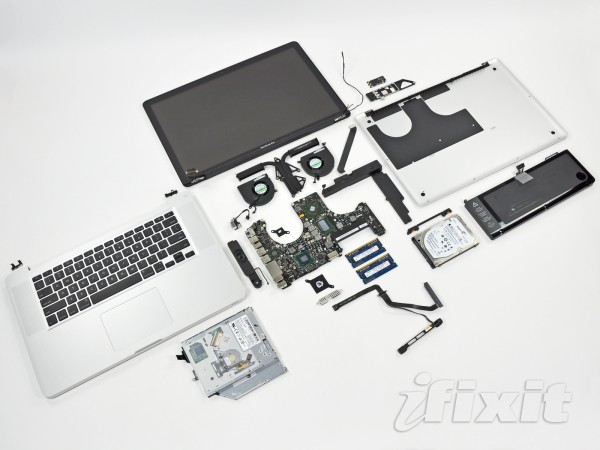 While we all like to look at the inside of a new computer, especially one that looks as elegant as the MacBook Pro, iFixit found some issues that could affect the reliability of the new MacBook Pro models down the road and may point to relaxed quality control somewhere along the Apple manufacturing chain. It is important to keep in mind that this is one MacBook Pro out of many, so we don't know if these issues are widespread or just a rare occurence on the 15″ MacBook Pro that iFixit purchased.
MacBook Pro (early 2011) Quality Control Issues discovered by iFixit:
Stripped screw near the subwoofer enclosure
Unlocked ZIF socket for the IR Sensor
Gratuitous amounts of thermal paste which could lead to overheating
iFixit described their findings, stating that these, "should not be things found inside a completely unmolested computer with an $1800 base price." and went so far as to describe the amount of thermal paste found on the CPU and GPU by exclaiming, "Holy thermal paste!"
The MacBook Pro early 2011 refresh isn't without some improvements though. iFixit found that the new design change allows you to disconnect he battery without actually removing it. This is handy for repair since the battery needs disconnected before you start any work on the notebook. In the past, this required removing the battery.
Another small change is the inclusion of a 4th WiFi antenna which could improve the wireless performance, but it's not a feature Apple touted.
Advertisement