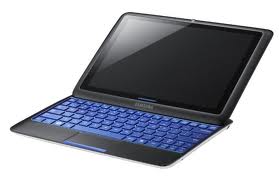 According to a tip that Engadget has received, electronics-maker Sony may be on track to release a Windows 7 notebook with a tablet screen that will utilize the same form factor as the Samsung Slider 7 that debuted at the Consumer Electronics Show earlier this year. The tablet design would be Sony's third rumored tablet product, the first being an Android S1 tablet and the second is a dual-screen e-reader-centric S2 tablet.
The 9.4-inch Windows 7 slider tablet form factor from Sony would bear the VAIO moniker and could be a successor to the VAIO P series, which is a compact premium netbook.
The sliding notebook, however, will utilize netbook innards as the VAIO slider will be powered by an Intel Atom Pinetrail processor. The device is expected to be priced around $800 when it will be introduced in October, but that pricing may increase at launch according to Engadget's sources.
Advertisement