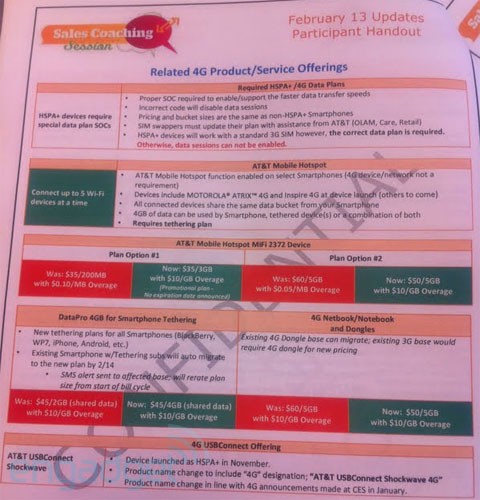 For laptops and data devices, such as the company's newly released MiFi 2372, it looks like AT&T may be slashing its monthly data prices according to a leaked internal document that was posted on Engadget. The maximum plan for 5 GB of data–on notebooks and netbooks as well as on the MiFi and other USB modems–AT&T will be cutting $10 from the plan, bringing the 5 GB monthly subscription to $50 per month. Overages will be $10 per GB.
Additionally, for the MiFi, AT&T is adding a 3 GB tier priced at $35 per month, which increases the data allotment from a paltry 200 MB from before for the same price. The new 3 GB for $35 will also have $10 per GB overage.
For smartphone users who are looking at tethering, the company will be increasing the metered data to 4 GB for a total of $45 per month. The 4 GB of data will be shared in the same bucket as data consumed via tethering as well as data consumed natively on a user's smartphone.
Advertisement