The Kensington PowerLift Back-up Battery, Dock and Stand is a versatile tool for on the go users who need more battery power than the iPhone delivers. The battery backup, dock and stand will provide a number of functions to iPhone users making it an excellent accessory.
We tested the Kensington PowerLift Back-up Battery, Dock and Stand while taking our mobile office on the road and found it to be very useful. First, it offers extended battery life with its 30-pin dock connector. The PowerLift folds up so that it is just slightly larger than other backup batteries for iOS devices. And it not only fits and charges the iPhone and iPod Touch, but in a pinch will power/charge an iPad as well.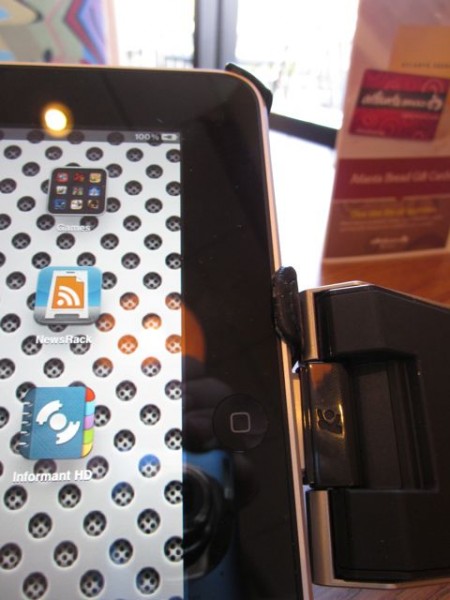 You will notice in the picture below that there is an indicator light that shows how much of a charge the PowerLift has left. Push the button near the four LEDs and you get instant indication.
It is a little awkward while connected to an iOS device sticking out the bottom. So, if all you need is extra battery power, you might want to go with something like one of the Mophie Juice Pack cases. However, those can't do some of the other things this device can.
As a stand/dock it is nearly perfect. It sits on the desk or a table while the small USB cable is plugged into a computer. There is a silver "leg" that retracts from the main part of the battery case and allows an iPhone or iPod Touch to rest against it as it is connected to the dock connector in portrait mode. We even tried it out with the iPad, and while I would not trust it for a long time, if you need it there for just a brief presentation at a meeting while powering an iPad with a low battery it would work.
Our only complaint is that the USB cable is a little short. You almost have to place it on the left side of the computer unless you have an extension cable. For the rare time a laptop only has USB ports on right or front/rear, the PowerLift will be hard to place with the iOS device facing forward while tethered.
One of the great uses would be a stand to hold the iPhone/iPod Touch while doing video chat through Apple FaceTime or Skype. It holds it in portrait mode. In a pinch it could hold it in landscape mode, but the angle would be a 90 degrees, so watching video like this would not be great, unless you could place it on something at eye level.
The dock connector swivels around into three positions. First position is for using the device as a dock/stand. The second position extends out to allow it to be used just as a battery backup while the iPhone, iPad, or iPod Touch lays on a table or you hold it (see below right). Finally, for storage, it swivels flush against the battery to protect it in a computer bag or pocket (see below left).
We really like the PowerLift and think that $49.99 is a good price for all that this battery back-up does. Other similar battery back-up devices cost almost as much but don't give the user a dock/stand to go with it.
Pros:
Offers battery backup for iOS devices
Versatile
Use as a dock and stand
Folds up to compact size for carrying in pocket/computer bag
Even works with the iPad in pinch
Cons:
Below is Kensington's promotional video:
Advertisement