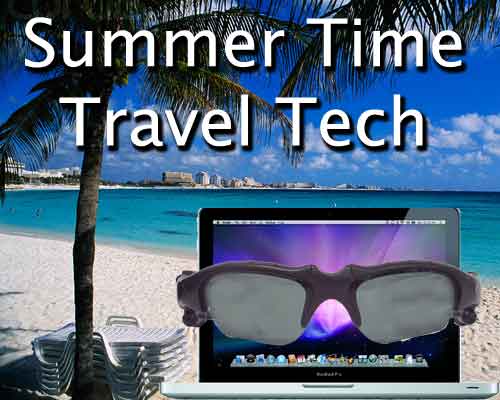 This summer we have been offering some opinions on Summer Time Travel Tech, giving you pointers on what gadgets might help as you take a trip. So far we've shared tips on Notebooks, Cameras, and two posts on Entertainment devices (part one and two). Now we want to complete the series with some suggestion for accessories to help protect your gadgets and make them work better.
Computer Bags
If you are carrying both a computer and a camera, you may want something to protect them and the tools that go with them.  You could just grab a nice notebook bag and a camera bag. Or you could combine them in one case. Our Publisher, Xavier Lanier recommends the Lowepro Pro Runner 350 AW. It is a backpack that will not only hold your DSLR camera and its gear, but also a notebook computer with a display up to 15.4-inches. On our recent trip to Charlotte to hang out with the Red Bull Racing team learning how they use technology in NASCAR, I was impressed with how neatly it carried and protected all his photography and computer gadgets.
While you are on the road, your bag will need to protect all your gear. That is why Xavier recommends Voodoo Tactical. They sell military grade equipment including bags and packs. These look like they will keep your tech safe. And the image they cast might make you feel safe too.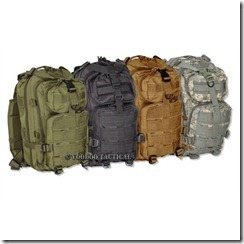 They don't look very professional, but they're great for when you have to get a little dirty/rugged. Very versatile and weather resistant. I bought a small one as a range bag and now use it as my daily gadget bag. They're extremely compact and expand as needed. (Xavier Lanier)
Xavier recommends the Level III MOLLE Assault Pack, which is a military style backpack. He said the following:
The smaller one can shrink down to about 4″ thick, but can expand to fit my 15″ MacBook Pro, 12″ Tablet or iPad, and my DSLR or video camera. It's absolutely built better than any computer bag I've ever seen. You can clip on accessory pouches for anything from mobile phones to water bottles. Both of mine are black. They both have water-resistant pouches and zippers. Really good price compared to computer bags.
The bag he recommends costs $62.95 and comes in many colors.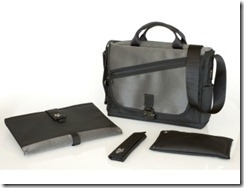 While some of love the military grunt look of the Voodoo bags, you may want something a little more stylish. That is why you might want to check out Waterfield Designs. I reviewed one of their iPad cases, and in fact we will be giving it away soon.
Waterfield Designs makes larger bags and sleeves for notebook computers and many other electronic devices. If it needs a power cord or batteries, they likely have a nice case to cover it. The Cargo Mambo Combo looks like the perfect thing for a travel bag as it comes in a package price with the bag, a pouch for accessories, and a sleeve for your computer. They are expensive, but they make great products.
Finally, our Editor, Josh Smith, has been testing the Mobile Edge EVO Backpack. It is designed for larger 16 or 17-inch computers. The EVO bags are black with colorful highlights.
They look like a great solution for larger notebooks. The 16 accessory pouches and pockets will make this a great solution for carrying it all on the road. Below is Josh's video preview of the pack.
Charging Solutions
If you have an iPod-wielding child who will not put the "toy" down, then you will also eventually have a child begging for batteries. My son's both have iPod Touches. Playing games and watching videos on trips keeps them entertained. But if the battery dies, they get grumpy. So our DLO Game Case Boost helps keep the juice flowing. It serves three purposes. First, it is a nice protective case with rubber outer shell covering a hard plastic inner shell. The inner shell also serves to hold two AA batteries that extend the life of the iPod Touch by about two hours. I recommend getting some rechargeable batteries though, or else you will go poor buying AAs. The third benefit is that it makes the iPod Touch feel more like a gaming controller. My son loves his and I love the protection it gives his expensive toy and at $30 that's cheap insurance.
We have other gadgets that we carry on trips from our iPhones to our Verizon Mifi cellular router, which lets up to five Wi-Fi enabled devices get online via Verizon's broadband cellular network. Sprint has one too. Our charging solution is to have a cable for the car to charge our iPhones and the Mifi. If we are way from the vehicle, we give extra juice to these devices with Energizer's XPAL XP2000 ultra slim charger. It is essentially a small battery with two USB ports one mini and one standard. You plug in the cable that comes with it to charge up the device. On one end is a standard USB connector. The other is a plug on which you put one of the included adapters. Once it is fully charged you plug one of the adapters into the included cable. Connect to your device and the XPAL and you are charging away. To check how much power the XPAL has left, push the Check/On button on the top and it has four blue indicators to show the power level.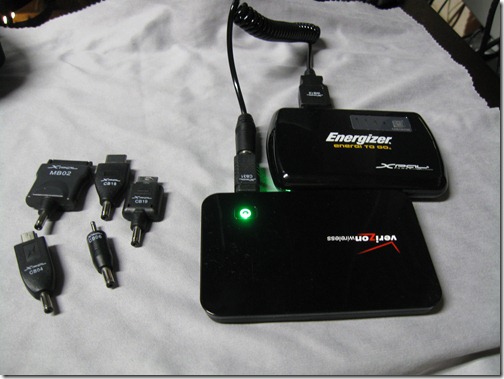 The XPAL has a number of adapters for various devices. To charge a device plug it in and push the Check/On button and it will charge fine. The adapters will fit many cell phones, devices with micro and mini USB connectors, and Apple products via the dock connector. It works fine with iPods, iPod Touches, and all iPhones, but it will not charge the iPad. I have not tested it with other cell phones. It is $48 at Staples. They also have both smaller and larger capacity versions. The $100 model will even charge many notebooks.
Speakers
If you are at the beach, on a picnic, or just in a hotel room and want to play some music for everyone to enjoy, you will need some speakers. This category is far too large to cover in this space, but I do want to make one recommendation. The folks at iHome sent over a great mobile speaker solution for us to test out. I've been playing with it and will be writing a full review soon. For now, I can recommend the iHome iP46 Portable Speakers for iPods and iPhones. Not only are they portable speakers with an Apple dock, but it is also battery-powered. You can either plug it in with the AC adapter or after charging the internal rechargeable battery, run it untethered. On the back there is an Auxiliary input via 3.5 mm stereo jack. So you could plug your notebook in so everyone can hear if you are playing a video on your computer or portable DVD player over a projector. The sound is very good and in my initial test the battery lasts more than 7 hours.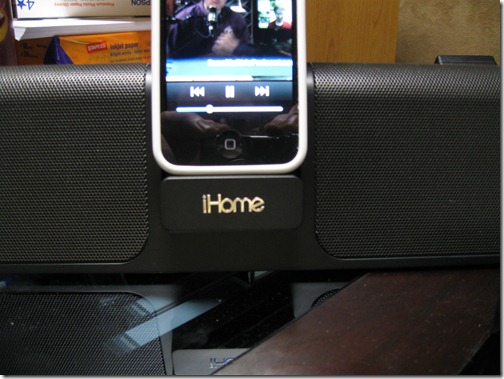 The iHome works well with an iPod, but there are issues using it with an iPhone. My iPhone 4 is a little temperamental. I have to sometimes reboot my phone by pressing and holding the power button on top and then sliding the red slider that appears after a few seconds. Usually after a reboot it works just fine. Also, in the picture above you can see that I have a case on my phone. It works with the case on occasion but usually I have to remove the case first. However, all iPod Touches and other iPods seem to work well with the speakers. The sound is very good, but the SRS Boost button makes it even better when listening to movies and music. Spoken word is best with the SRS button on. The feet on the back keep it steady. I love this product and can't wait to try it out on our trip coming up.
Next week ten people from our church are travelling to Wisconsin to do some mission work. One of the things we plan to do is hook up my notebook to our projector to watch movies after our mission work is done. The iHome speaker will help us enjoy the movies so much more because I will plug the notebook's headphone jack into the line in on the back.
Advertisement