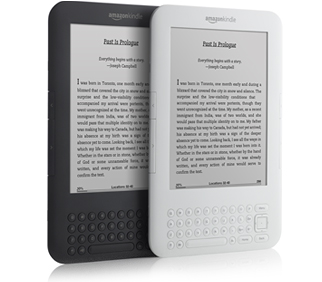 Amazon gave a sneak preview of the new features that will be coming to the Kindle software, including many new touches that could help the Kindle, and free Kindle apps, gain a place in the classroom. The most notable features are Public Notes and Real Page numbers, both of which make the Kindle more appealing for textbooks and in class use.
Real Page Numbers:
With Real Page numbers the Kindle will no longer give a Kindle specific page number that makes citing and sharing difficult, but will be providing users with the real page number. This process won't be instantaneous, but Amazon has added page numbers to "tens of thousands of Kindle books, including the top 100 bestselling books in the Kindle Store that have matching print editions." The real page numbers will arrive on the Kindle device soon and hit the Kindle apps on smart phones, tablets and computers in the coming months.
Public Notes:
Another great addition is the ability to make your notes public. The Public Notes feature is one that you need to turn on for each book that you want to share. This is a nice feature since it means you don't need to share all of your notes with the whole world. While there is an immediate benefit for regular users, there is a potential for textbooks and educational uses here that could make sharing and discussing readings much easier.
If Amazon could get a larger selection of Textbooks, the Public Notes feature could make it easy for a professor to share his or her thoughts on a particular chapter, providing guidance to students who are cramming the night before an exam without a middle of the night text message.  Additionally, students could use the tool to work together on group projects and in study groups.
Will Amazon Enter the Digital Textbook Market?
Given these new features it's hopeful that Amazon will actually do something in the Digital Textbook market which is currently dominated by CourseSmart. While the Kindle ebook store has some textbooks it is missing a large number of popular textbooks and publishers. The current Kindle devices aren't suited for the larger, and graphically filled, textbook pages, but the Kindle apps for the iPad, iPhone, Android, Mac and PC could handle these pages.
If you can't wait for the new Kindle software to roll out to everyone you can upgrade manually to get these new features right now. This requires that you have the latest Kindle or Kindle 3G eBook reader.
Advertisement