Apple posted a coming soon" page for the iPad update to iOS 4.2 coming in November. This might be in response to the collective sigh that came from the disappointed iPad community when Steve Jobs announced how late the new OS would be released. Apple's marketing department are masters at making their customers long for something new in Apple's products. The page lists the drool-worthy features that will be part of the update.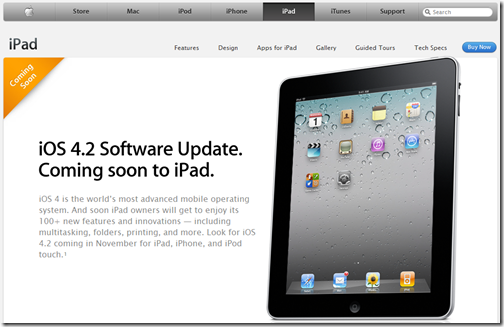 Most of this was covered in Job's press announcement of iOS 4.2 on September 1. Some of the things were not mentioned but are expected since they are already in iOS4 for the iPhone 4. These are listed at the bottom of the page.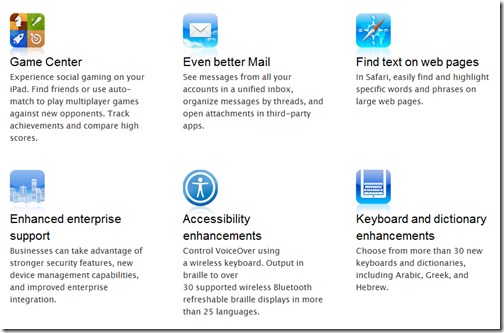 These other updates include searching web pages, more keyboards for language input other than English, accessibility enhancements for those with disabilities, and better enterprise support.
Of course most users are looking for the big-ticket features as illustrated by the screen shots on the page. The screen shots and descriptions of those features show us a few further details.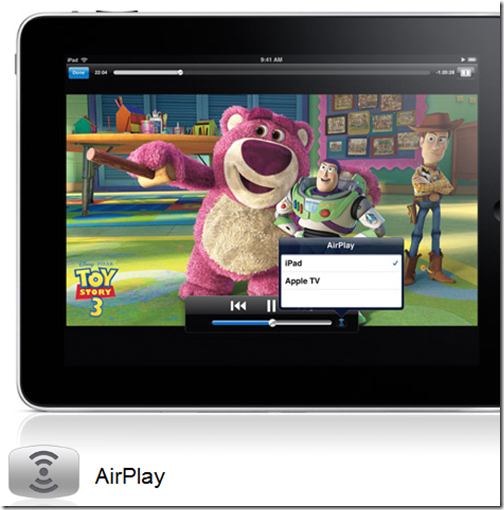 We don't learn much about the first new feature in iPad's iOS 4.2 is AirPlay. This will allow users to stream video or music to an Apple TV or AirPlay speakers. AirPlay speakers are part of a wireless speaker system from Apple. They allow users to send their music to different speakers around a house if they are set up with the technology.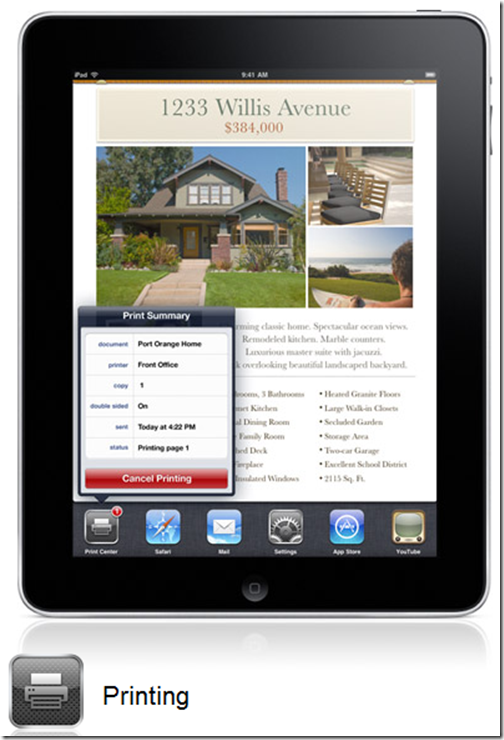 Notice that Printing will have its own App and icon that seems to pop up to display print options for a print job.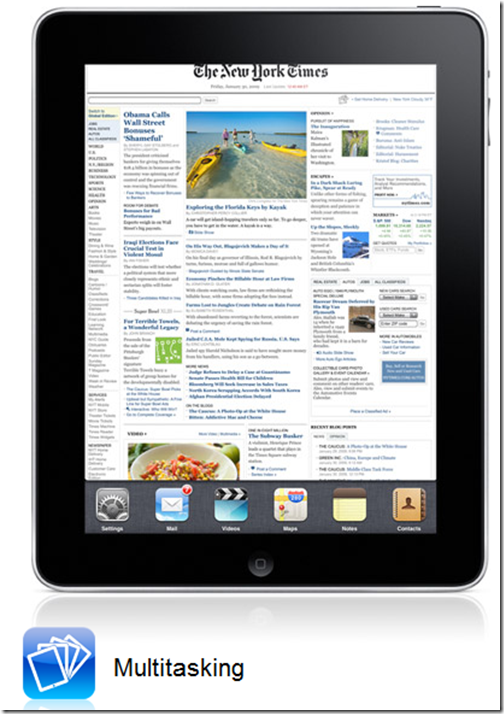 Multitasking will work as it does on the iPhone and iPod Touch running iOS 4. Double click the Home button to reveal a row of recently run apps. Tap it and it quickly switches to that app in the state in which that app was last left if the apps supports iOS 4 style multitasking.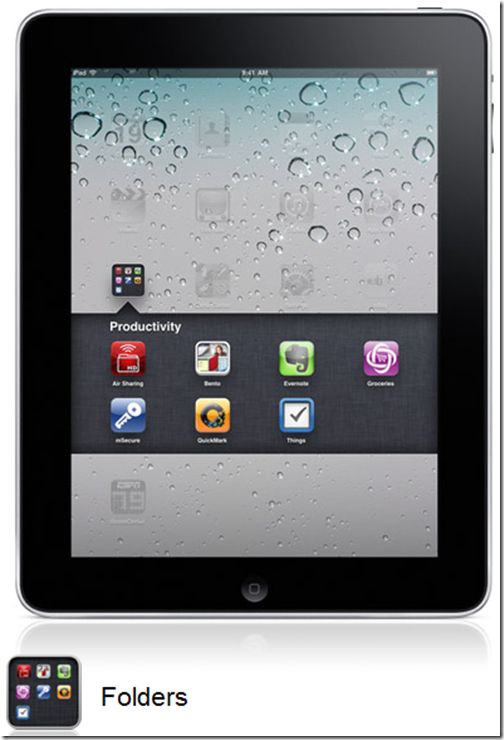 Like multitasking, there is nothing new learned about the Folders feature of iOS 4. Unless it changes drastically in actual practice, one will tap and hold an icon to make them moveable. This is obvious as they will begin to wiggle. Drag an icon onto another to create a new folder. iOS 4 automatically gives it a name based on the app's category (for example: Entertainment, Productivity, Photography, etc). The folders can be renamed by tapping them in this state. When finished arranging icons and folders press the Home button to save the changes.
Until the new OS is released, users will have to make do with what we have. There are a number of printing apps in the app store and instead of folders one can sort their apps by making one screen for each category that would normally be put in a single folder. For example have a screen for games, one for video apps, etc.
Advertisement