Even though we live in a modern world where most users have their own computer, there are still occasions where you might end up sharing or need to access a shared computer. When sharing your computer, it is always best to have a separate account to keep your personal files and settings private and secure. This task is easy to do in Windows 7.
Multiple accounts aren't just great for occasions where you are sharing a computer with a friend, even families can benefit from having multiple user accounts setup on their PC, keeping important files safe from accidental deletion by children is probably the most important reason for setting up another user account on the family PC. Also, if you are a parent who cares about your child's safety on the Internet, Parental Controls in Windows 7 will benefit greatly from multiple user accounts.
In this article, we look at how to setup another user account and apply special permissions to it for how it should be used. Permissions can be very important in computer lab settings where you might manage more than one computer and want to set permissions on how and when a computer should be accessed.
Create a New User Account

To create a new user account, click Start, type: Create an account

Hit Enter on your keyboard
Give the account a name, choose the type of account, in this case, we will be choosing Standard user for added security. Click Create Account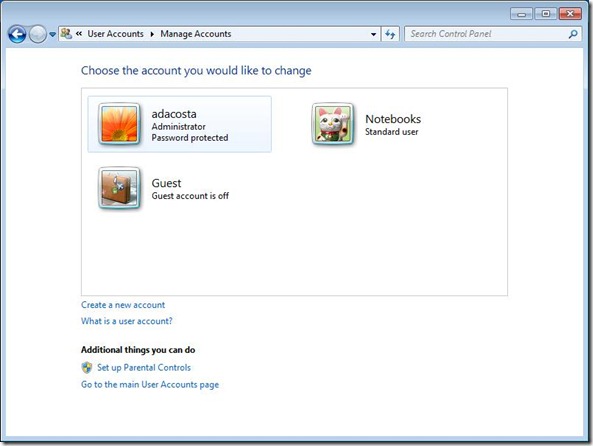 To make changes to the account, click on the desired account.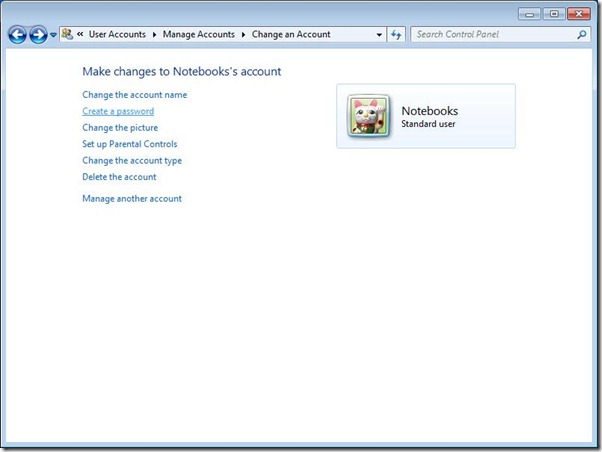 One of the most important things you should do is setup a password for the account. A password ensures that only the right person can access your computer and accounts on the system. Click Create a password.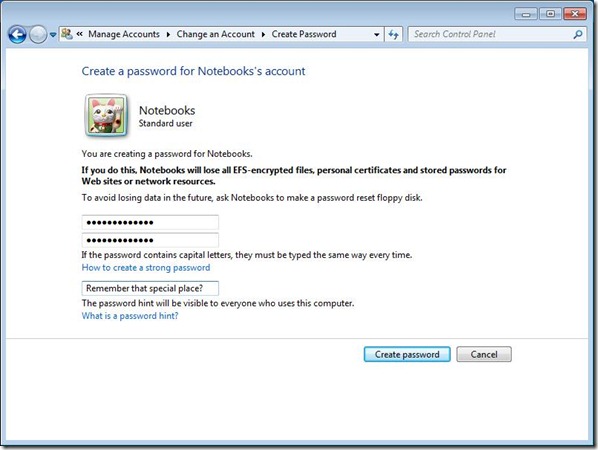 Enter a password for the account, then enter it again to confirm it. If you would like some tips for creating a strong password, click the 'How to create a strong password' link for instructions. Next you will need to create a password hint, this will help you remember the password in case you forget it. Once complete, click Create password
If you would like to setup parental controls you can do that next. Please refer to Notebooks.com article about how to use Parental Controls for more info.
Permissions
If you are using Windows 7 Professional, Enterprise or Ultimate editions, you will have access to more functions that allow you to define certain settings for user accounts in Windows 7. Local Security Policy is a feature of these particular editions.

You can access it by clicking Start, type Local Security Policy

Then hit Enter on your keyboard.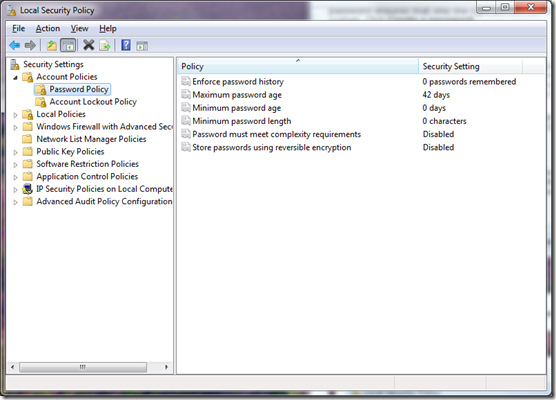 In Local Security Policy, expand Security Settings, then expand Account Policies. Here you will see two folders: Password Policy and Account Lockout Policy.
Password Policy folder list policies you can apply for requirements a user must have when setting up a password on the computer. The Enforce password history for instance allows you to set the maximum amount of characters required for a password.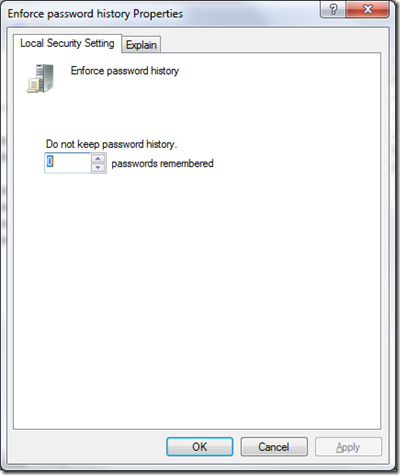 Here you can set the amount of values required before you can apply a password to an account. Listed are other options such as Maximum and minimum age of the password, how long the password must be, complexity and options for encryption.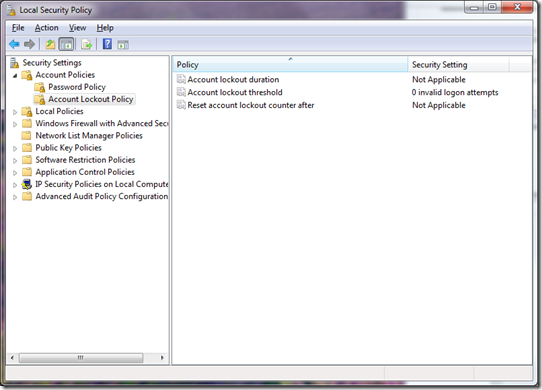 Account Lockout Policy This folder list some very cool options that can help lock down your PC and prevent unauthorized individuals from trying to access your computer.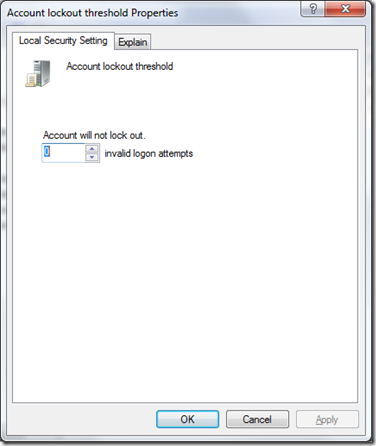 For instance, if you enable secure log on (CTRL-ALT-DEL), you can set the amount of tries before the user is prevented from attempting to try again. So, if the user fails to enter the right username/password after 2 attempts, this will lock the user account. When this is enabled, you can then use the Account lockout duration, which be from 1 min to 99,999 mins.
An Example: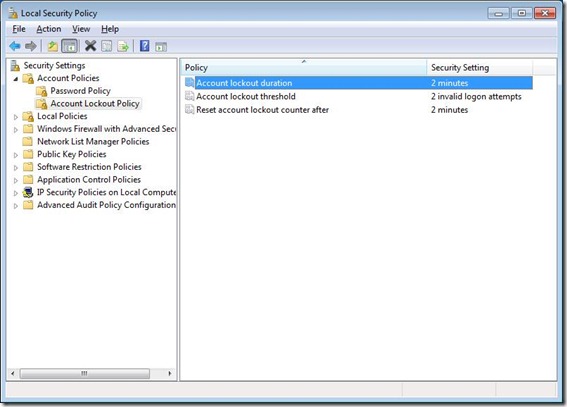 Here I am setting up a policy when people enter the wrong password after a certain amount of times, in my case, I have set it to 2. I have also set the lock duration to 2 minutes. You can extend the threshold and the amount of attempts as you like.

So when someone makes two failed attempts, they will receive the following error message.
Locking down accounts
If you want to make your accounts even more secure, Local Security Policy includes a Security Policy folder with options for securing your accounts even more.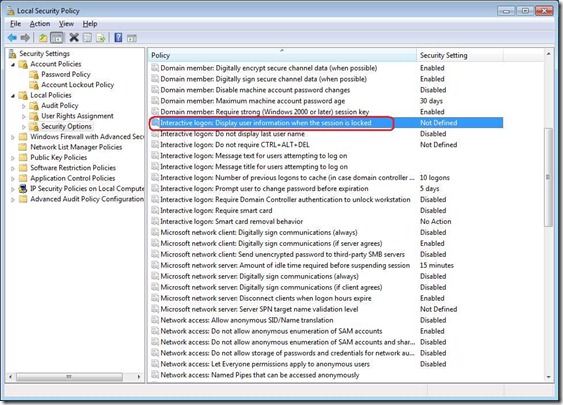 In the above screenshot, I will be enabling the option to not display any account information when Windows 7 displays the account screen. Double click Interactive logon: Display user information when the session is locked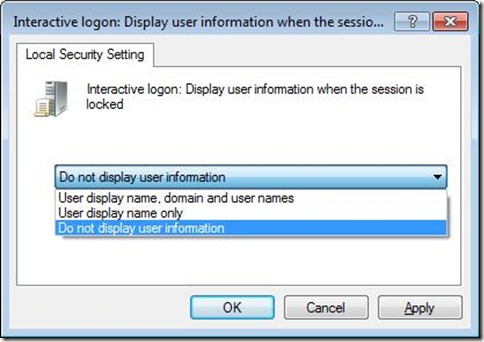 Click in the list box and select Do not display user information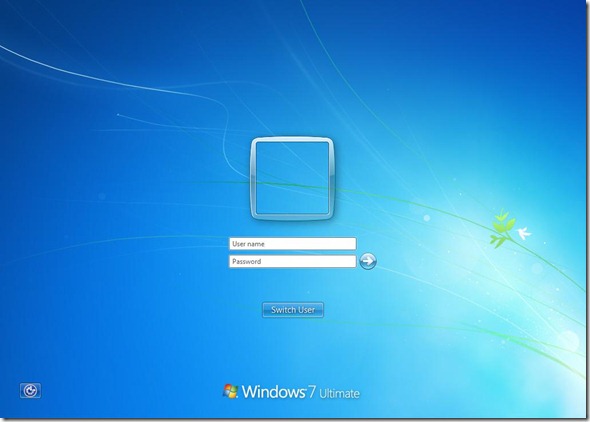 From now on, your account name will not be displayed by default, users must enter both User name and Password.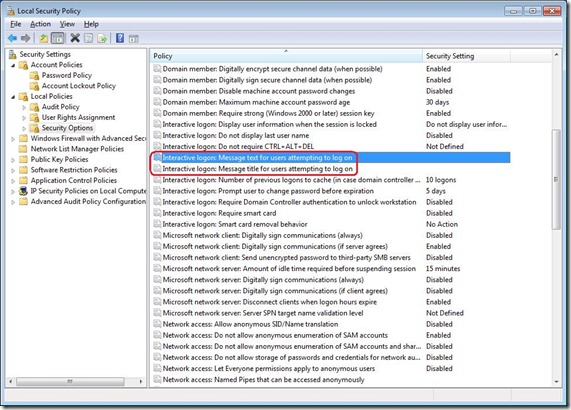 Another option is to display a message when the Windows 7 Welcome Screen is displayed. If you manage a group of computers, you can have this message displayed for scenarios such as help and support. You can even use it for cases where your laptop might be lost (good luck with that). So you can display a message on the welcome screen telling the person who finds your laptop where they can locate you to return it.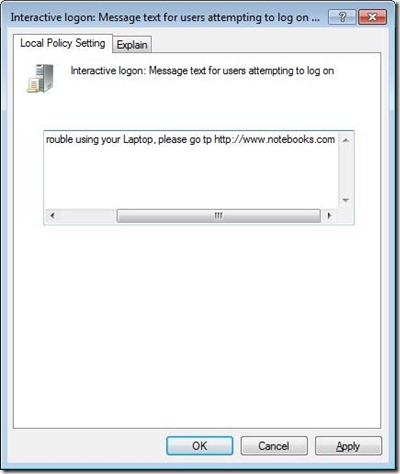 Here I can enter a message for people who are attempting to log on. In this dialog I have typed If you are have trouble using your Laptop, please go to https://www.notebooks.com After entering the message, click Apply and OK.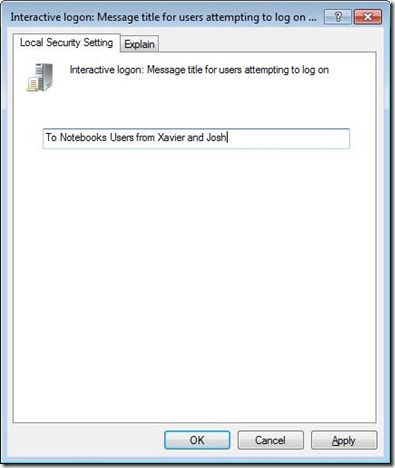 I have also added a title for the message: To Notebooks Users from Xavier and Josh Click Apply and OK.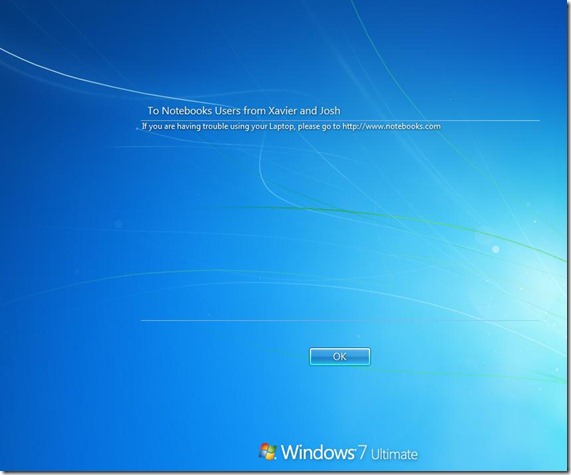 So every time the Welcome screen is displayed, users will see the following message.
This can greatly help you prevent individuals from trying to access your account, it's a great deterrent and makes it frustrating for the individual making password guessing a waste of time.
Advertisement