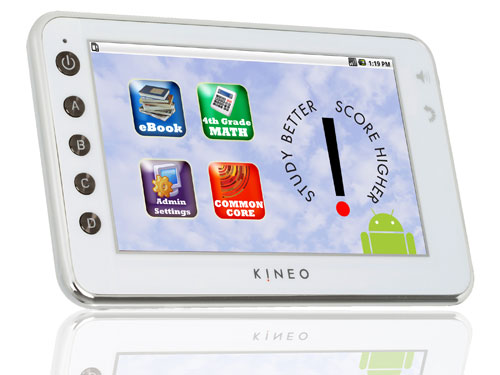 While there has been an increasing number of tech toys designed for kids such as laptops like the Toshiba L635, a company called Brainchild is now focusing on the tablets designed for youth called the Kineo tablet. The rugged tablet–at least rugged enough to handle the abuse of children–runs the Android operating system and is designed for the education market.
For its rugged feature, Kineo is advertised to be able to handle at least 500,000 impressions on its touchscreen, though it's unclear how that compares to other Android or Windows tablets or even the Apple iPad.
Advertised with about 10 hours on a single charge, the 7-inch educational Android slate matches the Apple iOS iPad in battery life. The device comes with Android 2.1, which means sadly that Adobe Flash 10.1 Mobile isn't supported as the plug-in requires at least Android 2.2, and comes with WiFi, an 800 MHz CPU, 2 GB internal storage, and a display resolution of 800 X 480, which is WVGA and is the same pixel resolution as on most high-end Android smartphones. Unfortunately, the resolution is smaller than the 1,024 X 600 pixels found on Samsung's 7-inch Galaxy Tab, which also bests the Kineo with Android 2.2.
There are some parental controls to keep kids safe by limiting access to the Internet and certain apps. The tablet is available for pre-order right now for $300 and will ship next month.
Via: SlashGear
Advertisement