If you need to free up space on your iPad while you are on the go, deleting video files is the fastest way to gain extra space. The process of deleting videos from your iPad, while on your iPad, isn't hard, but it isn't exactly intuitive.
To delete a TV show or movie from your iPad follow the steps in this video:
How to delete videos on the iPad:
1.  open up your Videos app
2. Choose the show you want to delete.
3. Slide your finger from right to left starting at the right edge of the title on the episode you want to delete.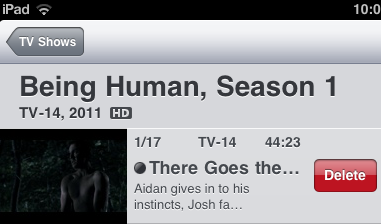 4. You should see a delete symbol to the right of the title.
5. Press delete and you're done.
6. Repeat as needed.
Advertisement