Since launch back in 2012, Microsoft's Windows 8 has received no end of criticism and praise. Buyers of 2-in-1s love the operating system because it makes Windows touch-friendly and light weight. There are new features and add-ons that make it the best version of Windows yet. All the criticism comes from users of traditional form factors, laptop and desktop users who knew how to use Windows before and don't appreciate the changes that Microsoft introduced.
Today, you'd be hard pressed to find a Windows notebook that doesn't come with Windows 8 installed in a retail store. That's unfortunate for anyone hoping to avoid the operating system entirely. You can purchase a system pre-loaded with Windows 7 online directly from some makers. Or you can set yourself up for the future by purchasing a PC running Windows 8 and making a few changes so that it's easier to use on your notebook.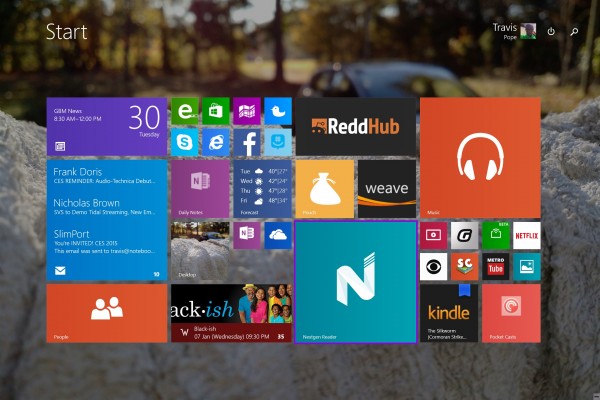 Here are some quick Windows 8 fixes for getting a better experience on a notebook or desktop that should solve most of your immediate problems with Windows 8.
Turn Off Hot Corners
Melding a touch, mouse and keyboard experience into one operating system has its risks. Make it too skewed towards one style of input and it can negatively affect the others. Hot Corners started out as an easy way for mouse and keyboard users to replicate the same actions as touch users. For example, with touch Microsoft lets users swipe left from the right edge bring up the Charms Bar. Hot Corners allow mouse and keyboard users to open the Charms Bar.
Chances are you're planning on using just the Desktop on your Windows 8 notebook. Here's how to turn those Hot Corners off and hide the elements you don't want.
Go to the Start Screen by pressing the Windows Key on your keyboard. Now look for the Desktop tile and click on it. In our example, it's the picture of a rag in white. Now look for the Task Bar at the bottom of your screen. You'll want to take your mouse and right-click on it.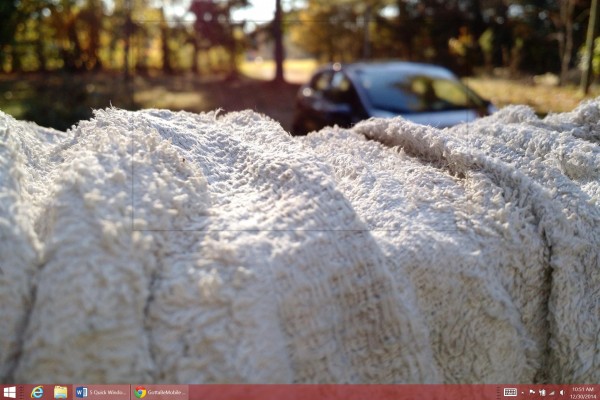 Now click on Properties.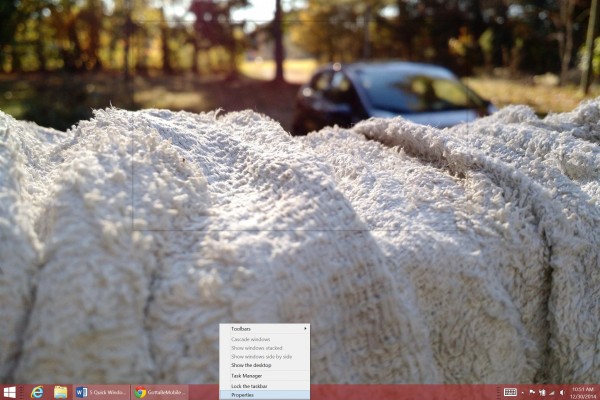 Now click on Navigation.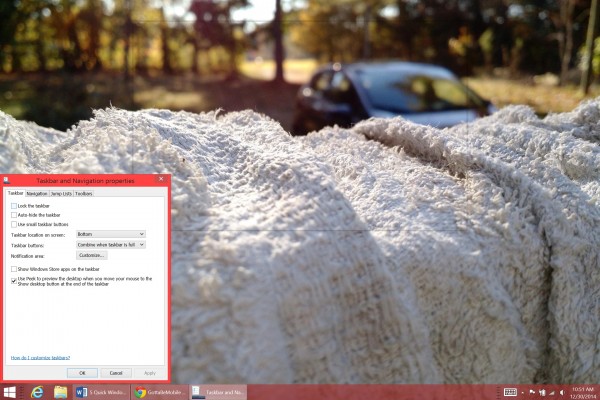 The first thing you'll want to do is turn off the Hot Corners. Click on the two check marks for Corner Navigation.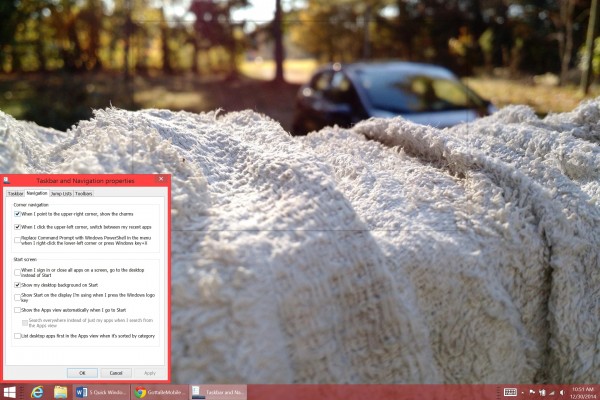 Make the Start Menu More Friendly
Windows 8 brought with it, Windows Store apps with Live Tiles. These apps live on the Start Screen, allowing users to easily get updates from their most used apps and more. There are programs that allow you to replace the Start Screen with a remade Windows Start Menu like the one from Windows 7. By default, Windows 8 doesn't allow you to do that.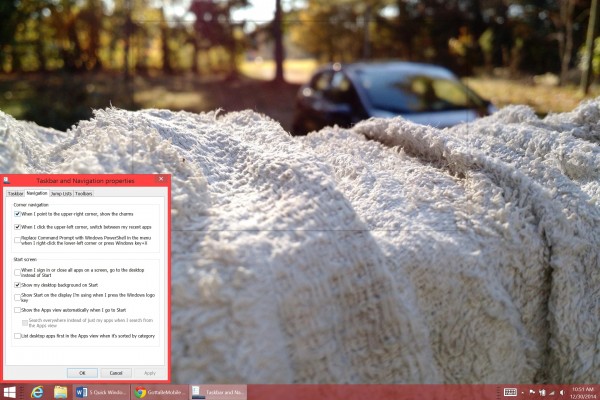 Instead, you can make the Start Screen less of a focus in Windows 8.  Under the Start Screen area in the menu, check the boxes for "When I sign in or close all apps on a screen, go to the Desktop instead of Start. Then select the check boxes for "Show Apps view automatically when I go to Start"and "List Desktop apps first in the Apps view when it's sorted by category." If you're really dedicated to hiding the Start Screen set the Windows key to go to the Desktop instead of the Start Screen.
Now click on Ok.
Stop Touchpad Swiping
The last thing you'll need to do is turn off the swiping on your trackpad. All Windows notebooks allow users to swipe inward from the right or left on their touchpad. Swiping in from the left takes you to your last used app immediately. Swiping in from the right gets you the Charms Bar. This can be incredibly annoying if you're using a trackpad and don't want these things to happen. Here's how to turn Touchpad swiping off.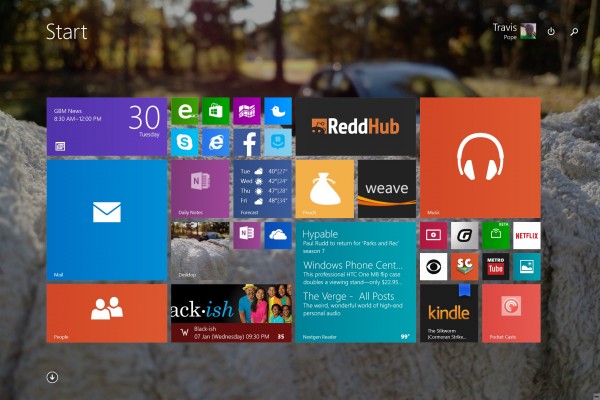 Press the Windows key on your keyboard or go back to the Start Screen. Since you've already turned off Hot Corners, click on the Search button in the top-right corner of your screen.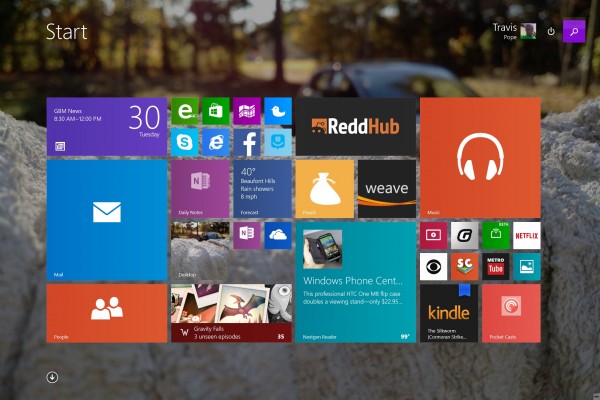 Type "Settings" then click on Mouse and touchpad settings in the results.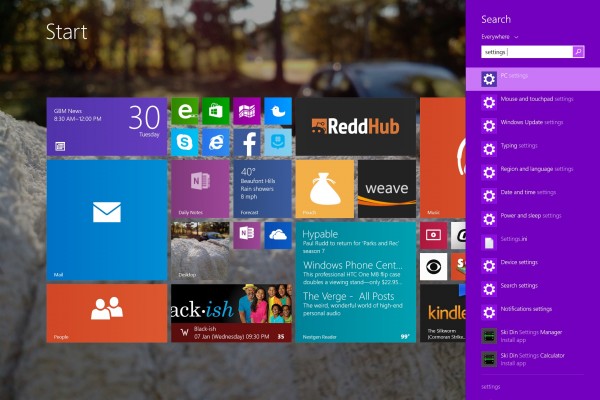 Click on PC and Devices.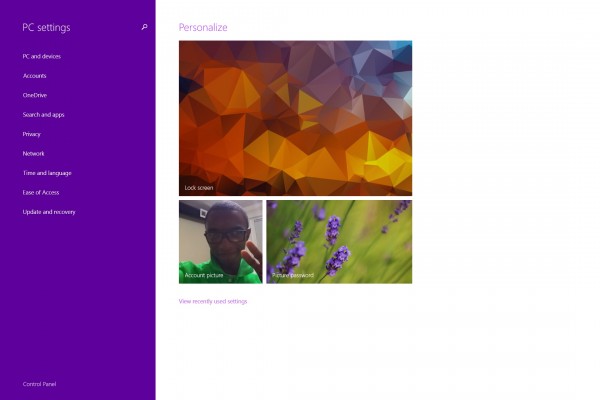 Click on Mouse and Trackpad then click on the setting for Enable swiping from the left or right edge. You don't need to save or press anything else.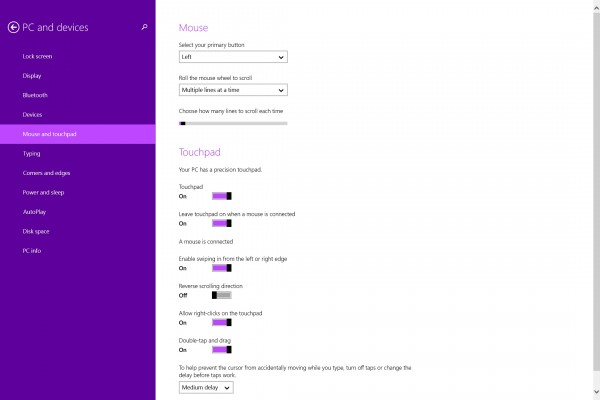 There you have it. With these settings activated and the others disabled, you should be able to use your Windows 8 notebook just like you used older notebooks running Windows 7 and Windows Vista. If you decide that you want to change all of these settings, repeat these steps and switch the options back.
Advertisement