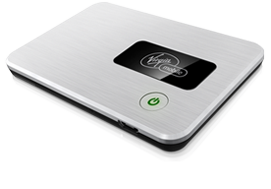 Sad news for data users on the Virgin Mobile Broadband2Go service which offers an unlimited data plan for $40 a month. The Broadband2Go service, which we have reviewed, did offer the best value in terms of price, no contract and an unlimited amount of data; but Virgin Mobile has announced that starting February 15th the unlimited plan would slow down for users who consume over 5GB of data in a 30 day period.
Virgin Mobile isn't the first carrier to take this type of stance, in which the data rates will typically drop to 100kbps or lower, but it is a disappointed to see another "unlimited" plan get shackled with asterisks and usage limits. Virgin Mobile users can get around the data throttling by purchasing another 5GB "unlimited" plan for $40, but that defeats the benefit of an unlimited plan.
Virgin Mobile still offers one of the best values for data users who don't want to be tied down to a contract, but it will be interesting to see how this dynamic changes as more phones begin to act as a mobile hotspot. Especially since the Verizon iPhone will have a mobile hotspot feature with what it appears will be a truly unlimited 3G connection. It's not immediately clear if there is a premium for using the mobile hotspot on the iPhone, but if there is, Verizon typically treats that as an option you can turn on and off without affecting your contract, much like a non contract MiFi.
Advertisement