Now that the Verizon iPhone is a reality, and on it's way to Verizon store shelves on February 10th there are plenty of AT&T users who are looking to trade their AT&T iPhone in for a Verizon iPhone.
Switching from AT&T to Verizon means you won't be able to bring your iPhone with you, and there are many costs of switching, but there are many options for selling your iPhone for top dollar.
Enter EcoSquid.com, a gadget reselling website that connects you with gadget resellers and recyclers to ensure that you get the best price for your iphone or whatever old phone you're trading in for the Verizon iPhone.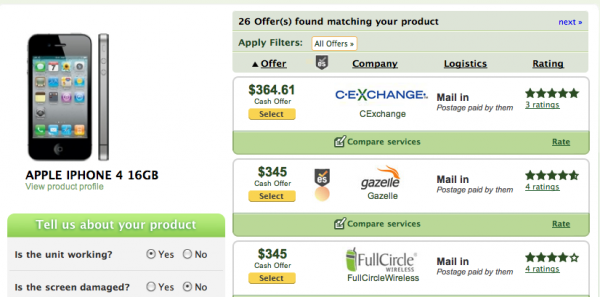 Rather than searching all of the gadget buyers on your own Ecosquid goes out and searches a large number of sites including Gazelle.com in order to find the best price for your AT&T iPhone 4. Our search yielded 26 results, including on for $364.41.
Be sure to check out the details for the buyers on Ecosquid since they don't all offer the same turnaround speed as Gazelle. In this case even though there is a higher offer, from C-E-Xchange, we aren't a fan of their 2-4 week turnaround on payments.
Have you found a better price for your AT&T iPhone?
Advertisement