Getting connected on the go is pretty easy these days, but unfortunately in most cases it is also expensive and requires a contract. Virgin Mobile is one of the few providers to offer an affordable contract free easy to use mobile broadband solution. The $79.99 BroadBand2Go USB adapter and service which we have been reviewing over the past month has performed well on numerous notebooks and in a variety of locations.
This review will look at the BroadBand2Go USB adapter as well as the service based on ease of use, speed and value.
Who should consider a no-contract mobile broadband plan like the one offered by Virgin Mobile?
This type of service, which allows you to turn the data one and off as needed, is perfect for anyone who needs a small amount of mobile data each month or travels just enough that they want a dedicated mobile broadband service, but not often enough to justify a contract. Pre-paid mobile broadband should be a consideration for small business owners, traveling college students and anyone else who wants an affordable mobile broadband solution that they can control.
Speed and Coverage:
Perhaps the two most important factors in mobile broadband are speed and coverage. In this case Virgin Mobile excels, but isn't the top of the line. Virgin Mobile does offer Nationwide 3G wireless access, but it's network is powered by Sprint which means in some areas including Northwest Ohio where we tested it we saw slower download speeds than using a tethered Verizon Wireless phone. Still, the national network covers many areas and for the use that we wanted; checking email, blogging and downloading the occasional word document the speed was alright.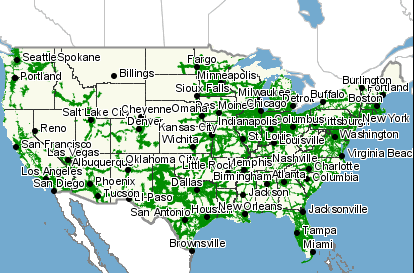 During the iPhone 4 launch coverage at Notebooks.com the BroadBand2Go adapter allowed me to keep numerous websites up to date, text chat on Skype with the rest of our virtual team and write a blog post while traveling down I-75 at 70 MPH.
As I mentioned, I was able to achieve a slightly faster download speed using WirelessTether for my Rooted Motorola Droid, but the speeds were comparable and the speed on the BroadBand2GO adapter was more consistent. All testing used the SpeakEasy.com Speedtest.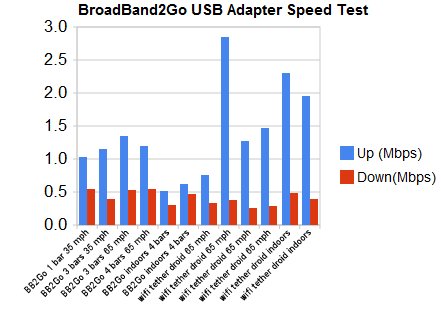 | Connection | Up (Mbps) | Down(Mbps) |
| --- | --- | --- |
| BB2Go 1 bar 35 mph | 1.03 | 0.55 |
| BB2Go 3 bars 35 mph | 1.15 | 0.4 |
| BB2Go 3 bars 65 mph | 1.35 | 0.53 |
| BB2Go 4 bars 65 mph | 1.2 | 0.55 |
| BB2Go indoors 4 bars | 0.52 | 0.31 |
| BB2Go indoors 4 bars | 0.62 | 0.47 |
| wifi tether droid 65 mph | 0.75 | 0.33 |
| wifi tether droid 65 mph | 2.85 | 0.38 |
| wifi tether droid 65 mph | 1.28 | 0.26 |
| wifi tether droid 65 mph | 1.47 | 0.29 |
| wifi tether droid indoors | 2.3 | 0.49 |
| wifi tether droid indoors | 1.95 | 0.4 |
Ease of Use:
How easy a gadget or service is to use is right there behind coverage and speed. If a service is blazing fast but needs a support call to work every time then it's worthless. If a product achieves OK speeds but is dead simple to use on the other hand it can rise from average to very good.
That's the case with the BroadBand2Go USB adapter. All of the data needed is built right into the USB modem so that when you plug it into a computer you can install the software and be connected in 3-5 minutes. Over the course of our review I tried the adapter in 3 notebooks and 2 netbooks and found that setting up and using the device was so simple that you could hand this device to anyone who can plug in a USB drive and they would be online in a matter of minutes.
When you compare this to the many tethering solutions, like WirelessTether for Root users that we used in the speed comparison the difference is huge. While testing this out I was in the passenger seat trying to hit a deadline and after spending 20 minutes trying to diagnose a tethering issue I gave up, removed the BroadBand2GO adapter from my backpack, installed it in a few minutes and met my deadline. This experience reflects the overall experience I have had with my current tethering solution. If you are using an official USB tethering service from your cell phone provider you may experience an easier level of use.
One problem I ran into that was particularly frustrating was that one netbook I used with the device failed to detect that it was plugged in when I tried to use the device at a later time. I was able to fix this problem by uninstalling the software and reinstalling it but it was an inconvenience. After reinstalling the problem did not return and I tried to recreate this issue on 4 other notebooks but was not able to do so. This shouldn't stop you from considering the BroadBand2Go USB adapter, but just serve as guide for what to do if this problem affects you.
Price:
You can purchase service from Virgin Mobile from as low as $10 for 10 days access all the way up to $60 for 5GB worth of service over the period of a month. The lower priced plans offer much more value than the pay-as-you-go data plans at major cellular companies like Verizon and the high end plan, which is priced the same as you pay on contract at Verizon, offers the ability to downgrade or stop using the service for a month without any fees or hassles.
Virgin Mobile Broadband2Go Plans: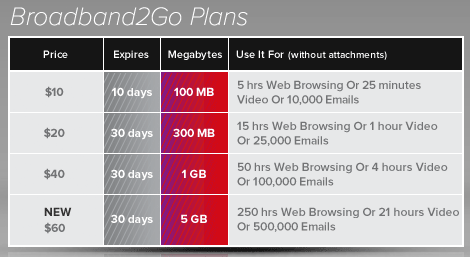 Conclusion:
If you want a pre-paid no contract mobile broadband solution that is simple to use, offers OK speeds and has coverage in many areas Virgin Mobile and the BroadBand2Go adapter is the right fit. If you want to share the connection or use it with a device like the WiFi iPad then you should look at the $150 Virgin Mobile MiFi unit.
Advertisement