The Notion Ink Adam Android Tablet is set to go on sale for pre-orders today starting at 1:30 and 7:30 EST. The earlier time is reserved for those who have already commented in the company's blog before the announcement post. In other words, unless you have already commented on a blog post at their web site, you will have to wait for the later time.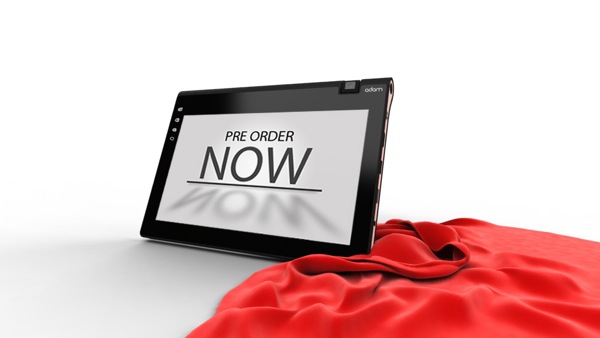 There are going to be six different models available divided between three with an LCD screen and the other three having a Transflective display, which are brighter under direct sunlight than LCDs. Reading books outdoors will be easier on this kind of display when compared to the glossy screen on the iPad.
Below is a look of a very early pre-production model:
The Notionink Adam Tablet Pricing as as follows;
LCD Wi-Fi only version for $375.33 (lower than announced)
LCD 3G will be $425.33
Transflective display Wi-Fi only version for $499.45
Transflective display with 3G version for $549.99
There are two other variants, but what differences exist in these are not entirely clear. They are the 850 and 900 series which could have something to do with what wireless 3G spectrum they use (900 MHz and 850MHz).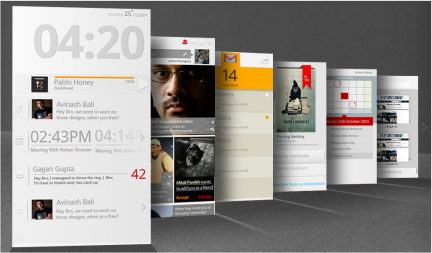 The software and internals of this tablet are interesting. Notionink included Android 2.2 but with some extra improvements add in that will come with Android 2.3 including Voice Over IP and Open GL graphics support. Notionink has also added some cut/copy/paste features that will arrive in 2.3 along with a split keyboard for better thumb typing. So they are getting a jump on Android 2.3 while shipping with the 2.2 engine. The above image is of the main display with panels for apps. Below you will see the calendar app and file browser.
On the hardware side the tablet is 1.6 pounds with a 10.1″ display rated at 1024×600 resolution. The two different display technologies are an LCD which should be bright in normal or dark light and a Transflective display will also be viewable under more direct light, thanks in part to a matte finish.
Most computers and tablets have glossy finishes which appeal to average users but power users will understand that the matte finish is much better in bright environments. Of course the screen is also a multi-touch display forgoing an active digitizer; something that is displeasing to those who prefer to ink with a stylus.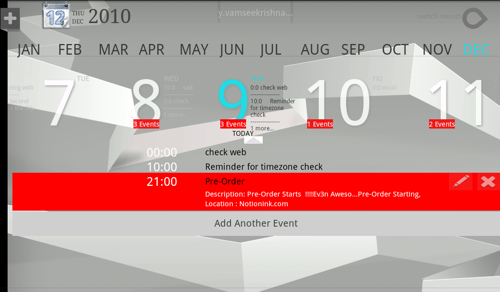 The core of the Notion Ink Adam is an NVIDIA Tegra 250 dual core processor. There is also a gigabyte of RAM and at least 8GB of flash storage. A micro-SD slot allows users to add storage too.
The Notion Ink Adam has a swivel 3.2MP camera which can face both the front and rear. Bluetooth is built in along with 802.11 b/g/n Wi-Fi and on some models 3G connectivity. It has 2 USB 2.0 ports, a mini USB port, HDMI out, a sim card slot and the micro-SD card slot previously mentioned. For audio there is a mic and a head phone jack as well as built-in speakers.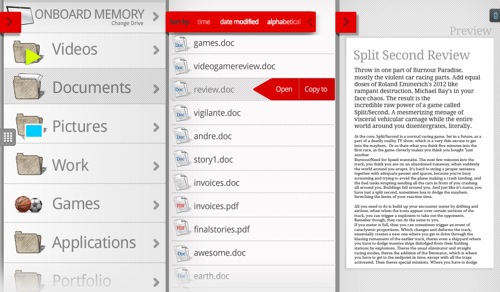 The Adam has sensor for compass, GPS, 3-axis accelerometer and an ambient light sensor which will dim the screen in brighter light. A killer use case for this tablet could be for GPS navigation with all the sensors and the available transflective display. Getting directions in a car during the bright part of the day will be much easier on a tablet like this.
The battery is a 3-cell 24.6Whr battery which will provide "… amazing battery life that'll last you for the long-haul." Unfortunately there is not a firm length given yet, which is not a good sign. If the tablet could last as long as other already released tablets, they would likely advertise this.
Another missing number is the actual ship date of the tablet.
The specs and pricing make this look like Notionink could have an interesting alternative to the iPad and other more expensive Android tablets like the Samsung Galaxy Tab. But like all new products, the jury will be out until this one actually gets into the hands of users. And until we learn the actual battery life, we cannot say whether this is a good choice. The price is right, but the performance will have to be at least close to that of the tablets already released.
Advertisement