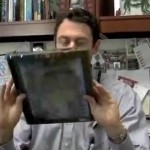 I went to my new doctor's office for the first time on Friday, but instead of worrying too much about my health I ended up interviewing him about how he uses a Tablet PC all day long to better serve his patients. I shot a video of him explaining how he uses his tablet and why more doctors don't use tablets and Electronic Health Records.
Dr. John Selle's really ahead of the curve when it comes to technology. He uses a Motion Computing TabletPC to update patient records, transmit prescriptions, view X-Rays, dictate notes and communicate with patients via Skype. His nurse's instruments feed patients vitals straight into a Dell Vostro and his partner uses a ThinkPad X-Series tablet to manage his patients' health.
As you can imagine, when he asked me what I do for a living we hit it off. After he got the full rundown of my health history and refilled some prescriptions we started talking tech. You often hear about Docs using notebooks and TabletPCs, but Dr. Selle who sounds like a serious champion of tech in the medical field- he has a tech certification from the AMA and he showed me a proposal for a remote monitoring and diagnostics device he hopes to build and market some day.
update: Motion Computing helped Dr. Selle solve his wireless issue, which seemed to be a network problem.
Selle says the major thing holding other doctors back is cost. Each practice must decide how much time and money to invest in Electronic Health Record systems and hardware. As Dr. Salle mentions in the video, there's little incentive for Docs that are nearing retirement age to invest in going digital. He says tablets and Electronic Health Records will start becoming more commonplace since new regulations are allowing hospitals to kick down cash to help affiliated doctors transition from pencil and paper to something that resembles the 21st century.
I really hope more doctors digitize their practices like Dr. Selle has. Many hospitals I've been to in the San Francisco Bay Area are pretty wired, with notebook cars littering the hallways and nurses often tote tablets in the ER. On the flip side, I've seen too many nurses and doctors scribbling down notes in nearly illegible writing on charts, or in one case on the back of a Chinese takeout menu (not too impressive for a world-class facility like UCSF).
He currently uses Skype to speak with his patients, but plans to begin having video chats as soon as health insurance companies start paying for virtual appointments.
He's not completely satisfied with the Motion Computing Tablet though. He wishes it had a touch-display and he'd also like an integrated Web cam.
Having a doctor that uses technology to his advantage makes me feel more comfortable as a patient. After talking to him about this I can't imagine ever going back to a doctor that uses pencil and paper. The technology is there, they might as well use it.
Advertisement