Last year Samsung proved that it was possible to make an ultraportable laptop that could match or exceed the MacBook Air on every front: design, performance, and coolness. The Series 9 became the template for the ultrabook wave we're experiencing now with the exception of the price.
Samsung's Series 5 Ultra laptops bear the ultrabook moniker, but there's still room in the market for premium ultraportables that push the limits of how thin, light, and and impressive a notebook can be. Thus Samsung also announced the second generation Series 9 today, a machine so sweet you may be tempted to save up your pennies to afford the $1,399 asking price.
The new Series 9 has a smaller footprint than the first generation even though it has the same display. And I mean the exact same display — 400 nit SuperBright, 1600 x 900 resolution, matte — just with a smaller bezel.
Overall this model is 37% thinner and 0.4 pounds lighter resulting in a 2.5 pound weight and half an inch thickness. When I held it for the first time I was filled with envy. Even my netbook isn't as light as this, and it's certainly not as powerful.
Just as before the notebook will come with Intel's Core i5 processor inside and a 128GB SSD. Samsung is leaving open the possibility of bringing out a more powerful Core i7 version, but right now there are no plans.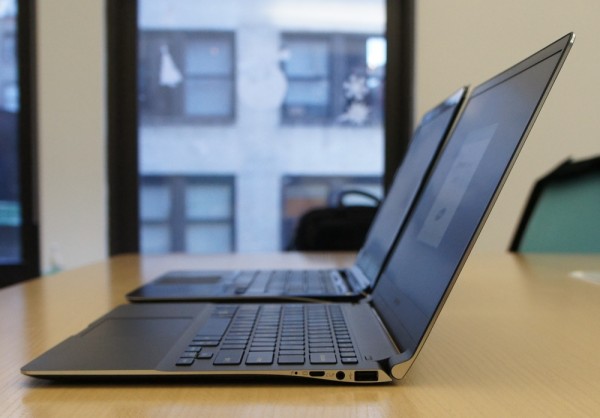 Despite being far thinner, the second gen Series 9 is better with port arrangement, ditching the pull-down drawers and just placing the two USB 3.0 ports and DisplayPort at the back edges where the notebook is a bit thicker. There's also a full SD card slot instead of a microSD — much more useful.
This model isn't made from Duralumin like the previous generation, though it does have an aluminum unibody design. It's also a little less swoopy than before, but still keeps to the wave idea in design.
The 13.3-inch version will cost $1,399 and will be available in February.
Now id you're looking at all this fancy thin and lightness and thinking it would be super awesome if you could have the same design but with a bigger display you're in luck. Samsung is bringing out a 15-inch version of the Series 9 as well. It will also hit shelves in February and cost $1,499. This larger Ultrabook has a bigger screen, but it is wedged into a 14 inch frame to keep things nice and compact.
As a fan of the original Series 9 I will admit that I'm very excited about this new version. It balances weight and size well yet delivers plenty of power for any mainstream task and even some of the workhorse stuff I need. And I'll reiterate: the 13-inch one is lighter than my netbook. That's enough to make me consider saving all my pennies for this one.
Advertisement