The Dell Inspiron Duo, a unique flip-style convertible net book, will be available for ordering in early December for $549 direct from Dell and Laptop Mag was able to get hands on time with the Inspiron Duo and the JBL Speaker dock for the Duo to share with us.
According to Laptop Mag the Inspiron Duo feels quite sturdy and despite much flipping, closing and switching; the hinge system feels sturdy. The new way to flip is a departure form the swivel and close which has basically been the go to method for years. This new method though, doesn't come without tradeoffs.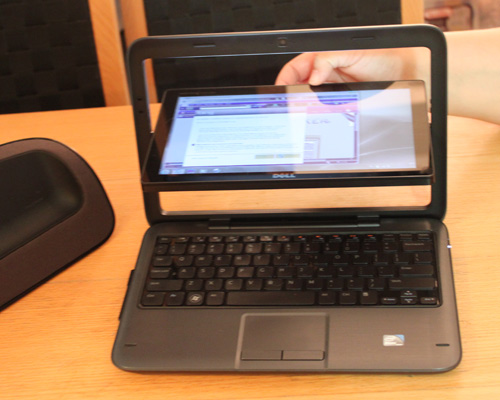 Laptop Mag reports that while this design is sturdy, it means you have a much larger bezel to deal with and the device weighs 3.4 pounds, which is about a pound heavier than many net books, heavier than the MacBook Air 13 and almost 2 pounds heavier than the iPad. You do get something for these tradeoffs, so it's not a complete wash; but to get a keyboard and a touchscreen you still need to sacrifice a bit of portability.
Because Windows still lacks in the touch department, Dell has included the Stage overlay which is designed to make it easier to interact with your fingers. While it appears to improve the default Windows touch experience Laptop Mag reports it can still use some work.  The unit Laptop Mag had hands on time with was a preproduction unit, so perhaps we will see some improvements to the custom Dell overlay UI before it reaches customers.
The hands on also touched on the JBL Speaker Dock accessory which adds a few USB ports and according to the review, sounds much better than the internal a speakers on the Duo.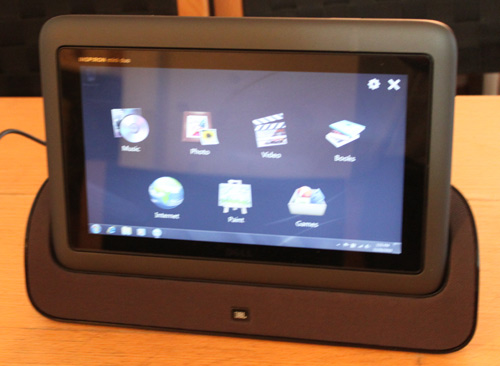 The Inspiron Duo still looks quite impressive and we have hopes that it can add some competition to a consumer tablet market that has been dominated by the iPad. While tablets have been around for sometime, many consumers are just now being exposed to tablets for the first time. Innovative designs like the flip screen plus keyboard could deliver a tablet that appeals to consumers that want a device that can be as much about content creation as it is about consumption.
Advertisement