HP let me borrow a 20-inch "Dragon" HDX notebook for a day while I was in Shanghai. The HDX is definitely an eye-catcher with some great specs, but I still wonder how well it will actually sell. I'd love to have one of these, but the steep price tag and lack of true portability will probably keep me from picking one up.
I invited analyst Samir Bhavnani from Current Analysis West, to share his thoughts about the HDX.
He thinks the HDX will sell two to three times better than the XPS M2010. Dell launched the XPS M2010 last year at CES and I've yet to see one out in the wild. Bhavnani says unlike Dell, HP has a strong retail presence and simply having the HDX at stores will be a great marketing move fore the rest of its consumer notebooks. HP might not sell a ton Dragons, but the 20-incher will create a halo effect and help HP sell lots of smaller notebooks.
Samir and I agree that the HDX really should have a handle on it. If HP doesn't want to add to the already large dimensions with a handle like the XPS, there should at least be some rubberized grip points on the case.
HP is pitching this notebook to students and others with cramped living arrangements, but will those same people be able to shoehorn one of these into their small spaces?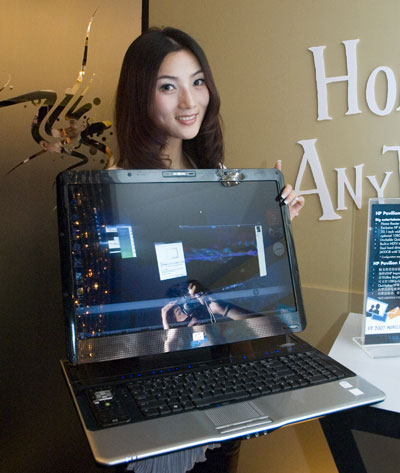 Advertisement