An added benefit of the iPad Camera Connection Kit's USB adapter is that users can plug USB devices, like keyboards or microphones, into the iPad for use with Apple's tablet. However, it has been reported by some that this feature has been removed with the recent iOS 4.2 update. The claim is that the previous power draw through the connector was 100 mA but now it is not pumping enough power foiling the intentions of iPad users who were getting extra functionality out of the connector.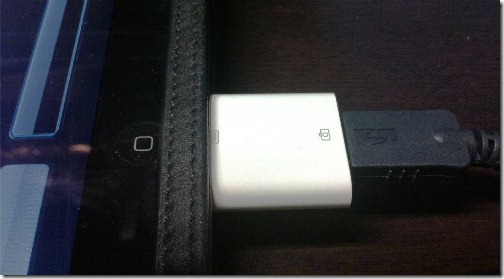 While there may be a problem with some uers' iPads noticed only after the update, we can confirm that in fact it does still work on our iPad. We tested the USB iPad Camera Connection kit with a Microsoft LifeChat LX-3000 headset which has both a mic and headphones and recorded some audio using Evernote. It worked great. Then we tested by plugging a Microsoft Comfort Curve Keyboard 2000 and typed into Pages. When the keyboard was plugged in there was an error that said it was not supported. However, we tested it and typed the following.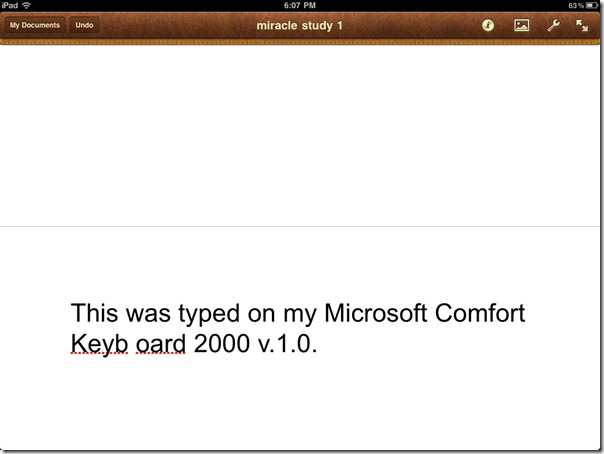 As you can see there was a slight stutter which put a space in the word "Keyboard." I can assure it was typed carefully and was not a user error. But despite that one hiccup it worked fine. Below is the error which was reproduced by removing the USB adapter and plugging it back in again. The error happened both times.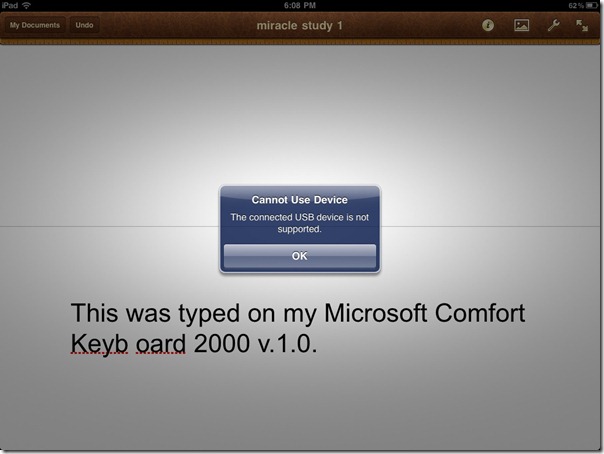 In a few months since getting the USB adapter from Apple, we have not used it that much. But if users are concerned about upgrading for fear of losing this functionality because they rely on the ability to record or type via the USB adapter, it might be prudent to wait till it is confirmed as an isolated case. Another option is to take the leap and hope it will not happen, but then don't complain if it breaks the functionality.
As Sumocat said at Gottabemobile when reporting this issue, since Apple didn't release the device with this promise it would be unreasonable to complain if they intentionally limited this feature. We do not expect to hear from Apple on this issue, but let us know if you have experienced the problem after upgrading by commenting below.
Below is our video review of the iPad Camera Connection Kit which demonstrated the added functionality.
Advertisement