Switching to a new computer is a joyous event, but it can also be quite a pain to get everything up and running like it was on your old PC. During Black Friday my father picked up a Toshiba Satellite L460 laptop, his first mobile computer, and today I finally had time to help him get it set up so that he could get rid of his old slow desktop — a process made easier thanks to Chrome and Dropbox.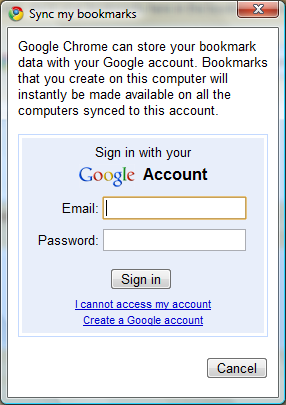 While dad normally uses Firefox and keeps most of his files in a few random folders the first step to getting his new computer up and running was copying all of his documents into My DropBox  including his small 1.5GB mp3 collection. While this began uploading to Dropbox, we also installed Chrome on his old PC and imported his Mozilla bookmarks and settings.
How To set up Bookmark sync in Chrome:
Click on the wrench in the upper right of Chrome.
Choose the second "Personal Stuff" tab.
Click Sync.
Enter your Gmail username and password.
Repeat steps 1-4 on all other computers you want to sync.
Chrome was already installed on his  and told it to sync bookmarks and presto — in a second he had a couple year's worth of bookmarks transferred to his new computer. We made Chrome his new default browser as well since it does a decent job of keeping the entire browser from crashing if one tab goes down. Chrome's one bar for search and addresses is also a bit more user friendly.
Over on the new laptop we installed Dropbox which immediately began downloading his documents, and should by the end of the evening have all of his music and pictures moved over to the new computer. We could have done this with an external hard drive or a DVD, but we didn't have either handy and this process means he will always have a cloud backup of his most important files available at no cost to him.
The out of the box experience on many windows laptops can't touch what you'll find on a Mac, but thanks to the pre-installation of Chrome we were up and running pretty fast. It was helpful that the laptop came with Office 2010 Starter which does enough for my dad and Live Essentials for easy access to other needed tools. The only real downside was that we had to uninstall a Norton trial, switching over to the free virus protection from Microsoft Security Essentials; but for the most part the Toshiba Satellite L640 had a pretty good out of the box experience.
Have any tips for helping a family member migrate to a new computer with minimal hassle? Please share them in the comments below.
Advertisement