If you use Pandora, you need to get the Unofficial Pandora Chrome Extension which lets you use your keyboard to control Pandora without the need to keep a tab open or even use your mouse. The Pandora Chrome Extension is free and works with free and paid Pandora accounts, but is not officially supported or affiliated with Pandora.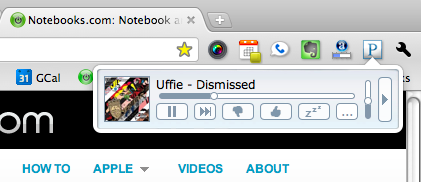 In addition to bringing Pandora to your Chrome browser in an easy to access icon, you can control your Pandora listening using the address bar and your keyboard. After installing the extension you will be able to type 'p' then 'tab' in the address bar followed by a command to control your music.
With the extension you can use the following commands
Play
Pause
Skip
Like
Dislike
Tired
Station <name> – chooses a station
Control Pandora with your keyboard video:
The extension works with Chrome out of the box, but you will need to do additional work if you want to use it with Chromium. In our short testing we weren't able to get the keyboard controls to work all of the time using the latest Chrome beta, but it appears to work fine on the Windows 7 machine we tested it on.
The Pandora Chrome Extension is much nicer than the Adobe Air app available to Pandora One subscribers. As a subscriber I really hope that Pandora doesn't step in to stop this extension; in fact Pandora should call up the developer and offer him a job…or at least a gift of some kind.
Advertisement