Jolicloud, has been a interesting operating system for netbooks for quite some time, and now it is available on a netbook straight from the factory in the form of the Jolibook. The Jolibook is a £279, or $443 netbook with a dual core Atom N550 processor,  Jolicloud 1.1 and one of the most colorful netbook lids we have ever seen. Engadget just posted their Jolibook review.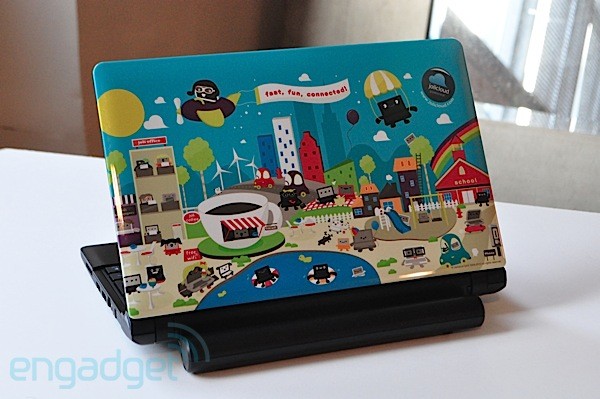 In addition to the Intel N550 1.5GHz processor the netbook has pretty standard netbook specs; 1GB RAM, 250GB hard drive and 3 USB ports. There is also Bluetooth which is a nice addition, but one we'd expect for $443.
The Jolibook, as you might guess from the brightly colored lid, is aimed at the younger set, those 12 to 25 who spend most of their time working in the cloud. That's the big sell for the Jolicloud OS, which you can download and install on any practically any netbook. One big upside that Jolibook has over the forthcoming Google Chrome OS is that you can work offline in some of the apps and sync back up with the cloud when you have a connection, a feature that the Chrome OS is rumored to be lacking.
In terms of use Engadget didn't find anything out of the ordinary other than a touchy trackpad and a less than desired battery life. Jolicloud flew on the dual core Atom processor, handling multitasking with ease.
In the end, Engadget came to the realization that, "If you're looking for a netbook that's all about Jolicloud, the Jolibook and its crazy lid will fit the bill, but if you're not all about one Linux OS, giving up Windows, or having a cartoon all over your netbook you're best just scooping up one of our preferred netbooks like the Toshiba Mini NB305 or HP Mini 5103, downloading Jolicloud 1.1, and making a Jolibook of your own."
Jolibook's specs:
1.5-GHz Intel Atom N550 CPU
1GB of Ram
250GB hard drive
802.11b/g/n  WiFi
Bluetooth v2.1+EDR
3 USb ports
8 in 1 card reader
Built-in 300k pixel web cam (1.3MP)
Advertisement