In the battle for cloud computing operating systems, first there was the Chrome OS, then there is Jolicloud..and now, there is a newcomer called EyeOS.
From their web site: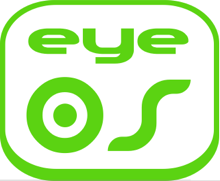 "The idea behind eyeos is that the whole system lives in the web browser. The client must have only a web browser to work with eyeos and all its applications, including Office and PIM ones. This applies to for both modern and obsolete PC's."
EyeOS  is designed to access a specific set of applications "installed" on the virtual desktop. Using the system, an organization could provide employees with productivity applications, its own custom applications, and access to proprietary data. The ability to access these through a single Web-based operating system saves users from needing passwords to different Web-based services. It also allows the applications to be more compatible with each other.
IBM is beginning to sell EyeOS pre-installed on its high end servers, but this is not to say its will not come onto notebooks and netbooks.  The idea is to get people interesting in using EyeOS to get them comfortable with cloud computing in their business, so when the time comes, they can transition that familiarity to home notebooks.
It will be interesting to see what develops for EyeOS as well as the others as we go into 2010.  Will the battle for a cloud OS be good or bad for the laptop and netbook industry?
Advertisement