PDF Expert is a PDF viewing and editing app for the iPad, by Readdle, the makers of some quality apps that we have previously introduced you to. It is this week's iPad App of the Week.
There are plenty of PDF apps in the App store. What makes PDF Expert worth your consideration is that it has some useful features for both business users and the average user. For example, the ability to add a signature with a stroke of the finger or iPad stylus is extremely helpful to those who have to fill out and sign documents but don't want to have to print off the document, sign it and then mail it back via snail mail or fax it back. With PDF Expert they can sign it and email it right back.
For those who have a form to fill out, PDF Expert nicely allows users to type right on top of a PDF document. This can be useful for anyone who has to regularly fill out PDFs that are digitally distributed.
We use it for reading digital books in PDF form and highlighting or underlining. And the ability to mark up a document using the built-in writing features makes the iPad more like reading an actual book than other reading apps like iBooks or the Kindle app.
Below is a video in which I demonstrate the basic features of PDF Expert.
Below is a document with a signature added using PDF Expert.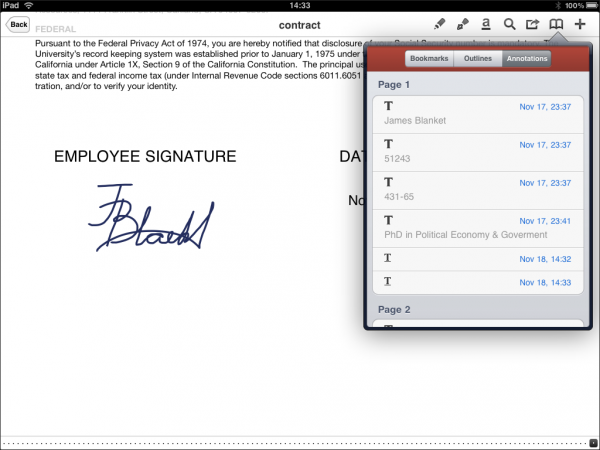 Here you can see how the app allows for underlining, highlighting, annotation and drawing or writing in the margins of a PDF document.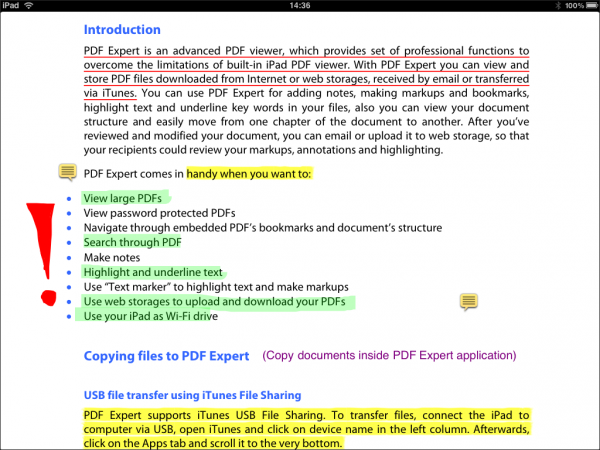 PDF Expert is available for $1.99 in the app store.
Advertisement