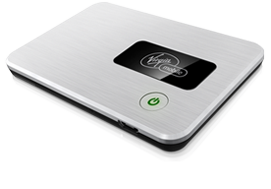 Virgin Mobile is partnering with Walmart to extend the reach and the value of the company's BroadBand2Go mobile broadband offering. Starting today Virgin Mobile users who purchase a Virgin Mobile Mifi or Virgin Mobile Ovation USB modem from Walmart will have the option of using an affordable $10 a month data plan that offers 1 GB of data.
Users will be able to top up their MiFi using speciaal $20 data plan cards sold at Walmart and made available online through Virgin Mobile. According to the announcement if you already have a Virgin Mobile Broadband2GO MiFi or USB Modem you can take advantage of the offer too.
The plan is a Walmart exclusive. That means unless you purchased your Virgin Mobile Device from Walmart you cannot use it with this new, more affordable, data plan. This is a big letdown for anyone who already has a Virgin Mobile device, depending on your usage you may be better off selling your old device and picking up a new one from Walmart.
As always Virgin Mobile's BroadBand2Go mobile data plan does not require a contract. You can check coverage online, which is based on Sprint's network.
The Virgin Mobile MiFi is available for $149 and the Virgin Mobile Ovation MC760 USB Modem is available for $79. Check out our review of the Virgin Mobile BroadBand2Go Service using the Ovation USB modem.
Advertisement