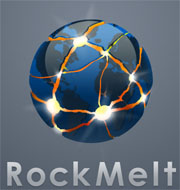 The team that had a hand in Netscape back in the early days of the web, has hooked up with new talent and is launching the RockMelt browser. RockMelt is a new way to experience the web that focuses on the social way we browse — building the social networks like Facebook and Twitter into the browser.
Two slim bars run along each side of the tabbed browser window allowing users to quickly share content with their networks and keep in touch with friends without leaving the page they are on.
RockMelt also provides a new way to search, loading the results in a pane on the right allowing users to see the pages on the left without closing the search results; mimicing the way many users search.
The RockMelt browser is available in a beta form starting today. Users can connect with Facebook for access to the early release. Right now you must have a Facebook account.
It is still early, but RockMelt looks pretty impressive. We'll have to see how RockMelt handles bookmark syncing and extensions before we pass judgement, but if you are a social browser RockMelt is worth a look. More on how RockMelt works is available on the RockMelt Blog. Rockmelt is available on PC and Mac.
Here's an extended look at RockMelt from Robert Scoble.
Advertisement