If you've been looking for a speakerphone system that performs better than the built in speakerphone option on your smart phone, and want something that can also tell you where to turn then you should check out the Parrot Minikit Smart.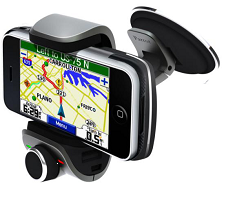 The Minikit Smart is the latest speakerphone accesory from Parrot, which is known for quality hands free systems (review of the Minikit Slim). This newest system mounts to your windshield and doesn't just connect to your phone for voice calls, but also to play your GPS directions through the built in 2W speaker. The mount can also hold your phone, between 56 and 70mm in width, and charge it with a built in USB port.
The Minikit Smart can support up to 10 different phone books (up to 2,00 contacts per phone) so you can share the device between family members or in a shared work vehicle between coworkers.
You can find the Parrot Minikit Slim at numerous retailers including Best Buy, Crutchfield and others for a suggested retail price of $129.99.
Advertisement