Having a reliable hands free in-car solution is a must on a long trip, and handy for day to day driving as well. Since not everyone can go out and get a SYNC equipped car like we have on the Great American Road Trip 2.0, we took a look at the Parrot MiniKit Slim Bluetooth Speakerphone which  attaches to your visor for easy access.
The Parrot Minikit Slim connects via Bluetooth and will download your phonebook for voice dialing. Pairing the Minikit Slim was very straightforward and despite the fact that the Motorola Droid I tested it with often forgets Bluetooth devices that was not a problem. As for range, you'll be using this most often within a few feet of your phone but I found I could be upstairs in our apartment and still have a connection with the parking lot, a distance of at least 20 feet.
The device is also simple to use with one button to make/answer calls and another to end them. Volume is controlled by turning the microphone. To initiate a call you hit the green button and a wonderfully British voice will ask you who you want to call. Since your phonebook has been downloaded to the device you can dial by name without any training and in our experience it was spot on in figuring out who you wanted to call and what phone you wanted to call them on.
The call quality was good. Callers were crisp and clear in the car and those I spoke with had no trouble hearing me or carrying on an extended conversation. It was much better than the call quality from the built-in speakerphone on the Motorola Droid on both ends.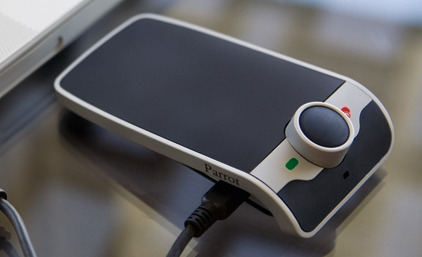 The speakerphone has a battery which charges over a Mini-USB port and is rated for 15 hours of talk time with up to 20 days on standby. I didn't time the battery life but in a week's worth of in-car and in office use I still had battery life left which was impressive since I found myself using my phone in the car much more than normal.
As I mentioned, the Parrot Minikit Slim isn't just for the car. You can use it in the office or in a hotel room for a handsfree conversation as well. In my opinion this is a much better solution than a Bluetooth headset which as someone with glasses I had trouble wearing for extended periods. Not to mention I felt a bit like "that guy" whenever I tried to use a Bluetooth headset.
The Parrot Minikit Slim retails for $99, but can be found as low as $70 from Amazon. If you want to add a portable yet impressive Bluetooth speakerphone to your car you should definitely check out the Parrot Minikit Slim. Parrot also makes hands free car-kits that offer more integration with your vehicle's sound system.
For more reviews of Road Trip Gear, check out everything we have on the Great American Road Trip 2.0 and follow the NBRoadTrip tag on Notebooks.com.
Advertisement