The best camera  may be the one you have with you, but what if you want to be in the picture too? that's the problem that the XShot 2.0 camera extender solves. This collapsible pole fits easily in your pocket and provides a pivoting mount for your camera so that you can be in the picture instead of behind the lens.
The Xshot 2.0 collapses to 9″ and fits easily in the pocket of  pair of cargo shorts or a backpack. When in use it extends up to 37″, allowing you to keep the camera farther away from yourself than if you simply held it out; you can also get better angles.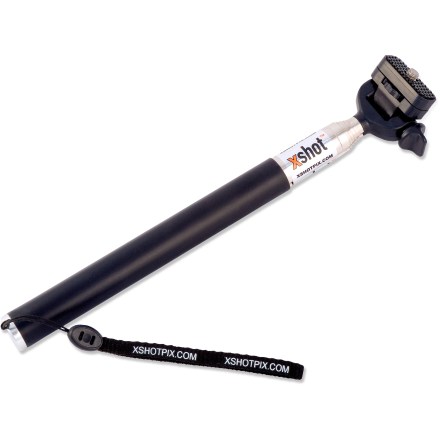 I was excited to arrive at a scenic overlook in South Dakota since it would be the first place I could try out the XShot, and it was there that I realized this is a device which requires a little bit of practice. The operation is simple enough, hold the camera away from you on the XShot and wait for the timer to go off. But, if you don't have a forward facing LCD screen you may have to try a few times to find the perfect angle. My suggestion after a day of learning in public is to go out in your backyard and figure it out with 10 minutes of practice.
Here's what we ended up with after a few minutes of trial and error:
Once I had the hang of it we were able to take some really cool self portraits including the one below which captures George Washington, Thomas Jefferson, Myself and My wife in our own recreation of the famous sculpture.
In addition to taking pictures with yourself in it you can also take snapshots over ledges, around corners and over the heads of everyone around you. If you need, it can also work as a mini-monopod to steady your snapshots.
One thing that I've found is as soon as you use the Xshot, you'll have several other tourists ask, "What's that?" and "Where can I get one?" The good news is that you can get one online from XShot for $29.95. Even though it requires a bit of practice, the XShot 2.0 is definitely one of the coolest camera accessories that you should take on vacation.
For more reviews of Road Trip Gear, check out everything we have on the Great American Road Trip 2.0 and follow the NBRoadTriptag on Notebooks.com.
Advertisement