Scosche announced a new Bluetooth handsfree speaker phone for use with your Bluetooth enabled cell phone. But unlike the dozens of other speaker phones, this one has a solar panel that will charge the speaker phone for you. There are others like this, but our experience has been that Scosche makes good products.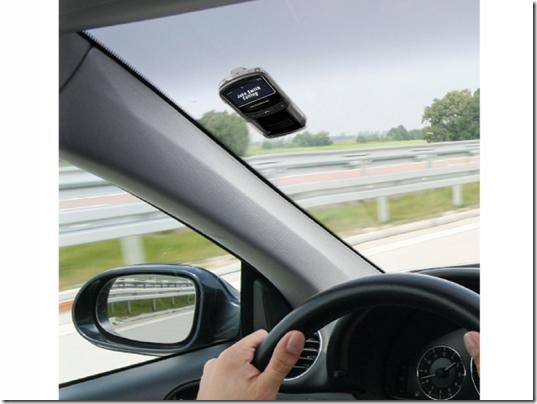 The solVUE has suction cups that allow users to attach the device to a window as seen above. The solar panel will recharge the lithium ion battery so that it always has power and never has to be plugged in, unless there is not enough light to enable the solar panel to charge the speaker. In that event it does have a USB charging cable with a car adapter for a cigarette lighter.
The solVUE will announce the caller ID information when the paired phone receives a call from someone in the phone's contact list. It can store up to 1,000 contacts. There is also one-touch voice dialing, so the user can push the button and then say, "Call John Smith" in order to dial the phone.
When the car door is opened the solVUE's integrated accelerometer will turn on the device. When not paired it goes to sleep conserving the battery when not in view of sunlight. The caller ID display adjusts to make it easier to view the name. DSP echo cancellation technology promises a clear call.
The solVUE can be ordered from Scosche directly for $109.99. However, it is available at [amazon_link id="B0036ORN3E" target="_blank" ]Amazon for a steep discount at $65.69[/amazon_link].
Advertisement