I've written recently about the value that Nvidia's ION" technology adds to a netbook and showed you full HD flash playback in the Mini 311 full review (see the Performance section). Before ION, the name netbook made sense because a netbook was a small, low-powered notebook that was best fit for browsing the web. With the addition of a system like ION, which greatly improves video performance capabilities, the netbook name becomes somewhat of a misnomer.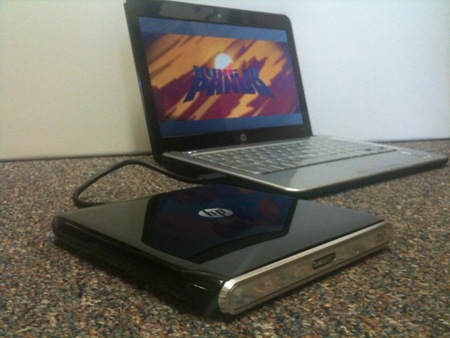 It's one thing to be able to play local HD content as well as flash HD content from the web at full framerate, but if you were to tell me that the HP Mini 311 could handle Blu-ray playback at full framerate… well let's just say I'd need to see it to believe it. And see it I have. Using HP's sleek USB Blu-ray drive, I watch through the entirety of Kung Fu Panda on Blu-ray. The setup was simple and yet it worked so well, which is why it's so impressive. The HP Mini 311 has HDMI output which makes it easy to output HD quality video to any modern HDTV. Using HDMI I sent the video (and sound) out to a 32" HDTV and was able to enjoy 720p Blu-ray playback powered completely by the HP Mini 311.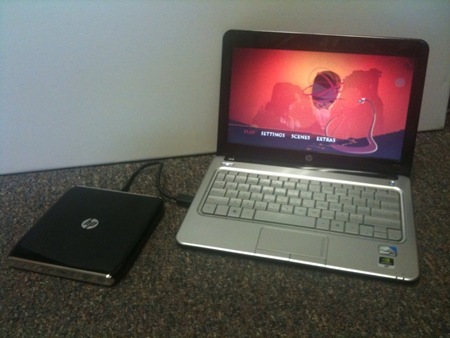 The video watching experience really was flawless. Through the entire movie, I didn't see a single stutter, even during the movie's fast paced action sequences. On top of that, there was zero vertical or horizontal tearing. Throughout the whole movie, the content was played smooth and at full framerate.
What I think is so awesome about this is that we've got a relatively cheap computer that doesn't even come with an included disk drive, and yet it still has the capability to handle some of the most demanding media playback scenarios out there. It's nice to be able to purchase a netbook and then turn it into a full performance Blu-ray player just by adding an HDMI cable and a USB Blu-ray player.
Advertisement