Pogoplug is the network attached storage box with a distinctive Pink and White exterior that helps users backup, store, and share files over their network and even over the Internet. Recently Pogoplug has expanded its functionality and introduced two new boxes one for businesses with customizable interface so that customers see a company's branding instead of Pogoplug's called Pogplug Biz and the other, called Pogoplug Pro, is an updated version of the home box adding built-in Wi-fi access.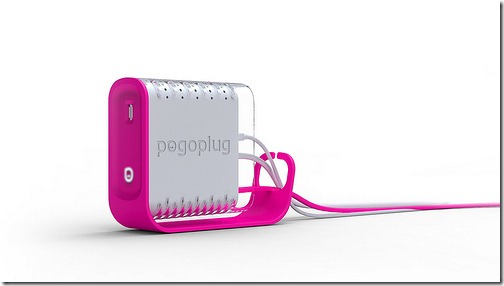 One of the new functions is printer sharing for those  who have a recent HP or Epson printer. The other is the addition of Wi-Fi. While the Pogoplug Pro has this feature built-in, the older Pogoplug requires a USB Wi-Fi dongle that plugs into one of the ports on the device, meaning the user has one less port for hard drives, flash drives or printers.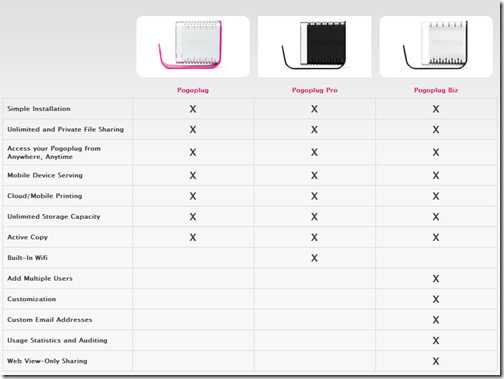 Network/Personal Cloud Storage
We tested the Pogoplug over the period of a couple of months. As a network attached storage device that also shares the files through the Internet, it is a great solution. I was sent a box a few months ago and in testing it just works. I was able to quickly set it up, attach a USB drive and back up some files quickly. There is an application that gives access to the box and makes the operating system (Windows, Mac and Linux) see  the Pogoplug as if it were a hard drive attached directly to the computer instead of through a network connection. With a fast network (I tested it on a gigabit Ethernet router) it is not too much slower than a USB 2.0 drive. The web interface is pretty simple to use. It lets you upload files from the web page or through sending files via attachment. Moving files around was easy and downloading over a home network was quick.
I did have one problem while downloading files over the Internet. By logging into the my.pogoplug.com web site, a user can see the files attached to the Pogoplug and download them, stream them or view them. This works, but one set of files I downloaded were corrupted. But this was a one time problem, which may have been a network problem more than a Pogoplug problem.
Wireless Access
The real purpose of my review was to test the two new features wireless access via Wi-fi and printing to Epson or HP printers either through the web access or from mobile devices like the iPad, iPod Touch, iPhone, Android, Blackberry or Palm. The new Wi-fi functionality is either built into the new Pogoplug Pro box or is added to the older home version via USB dongle that Pogoplug will send to users for a small fee. New users will get it built into the Pro version.
The company pushed out a firmware update (the software that runs the device) that was supposed to enable this functionality. It had a lot of problems and is still technically in beta. I had to contact support and they were very responsive getting back to me usually within 12-24 hours except over weekends. After going back and forth for a couple of weeks, we finally got the problems fixed with an even newer firmware update. And it works well now. The speed is adequate and streaming files was not great but in a pinch it worked. However, I would not recommend it for backing up or accessing a lot of files. It pales in comparison to having the device connected via Ethernet.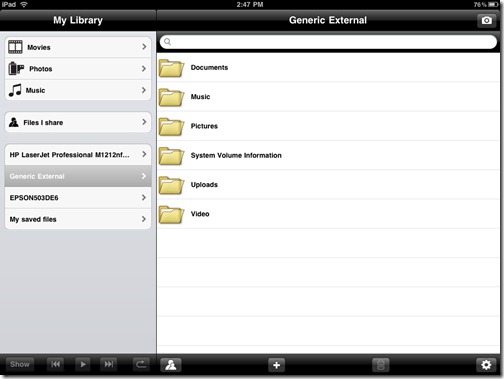 Shared Printing and Printing from iOS/Mobile Devices
The disappointing new feature is the printing access. Like the Wi-fi update I had to contact tech support and try to get things working. But now after weeks of trying, it still does not work with my HP printer and only occasionally with my Epson printer. If you don't have one of those two brands you are out of luck. Pogoplug says they are thinking about adding others, but it requires the printer company helping with driver support. It seems that my HP m1212nf is  just not really compatible yet and the engineers at Pogoplug are working on fixing this problem. My Epson Artisan 800 has worked but intermittently. Because of these failures I was never able to test the iOS apps that promise the ability to print. Instead I am using an app called Printer Pro, from Readdle, which will be my iPad App of the Week soon. It works, which is something I cannot say for the printing function of the Pogoplug and iOS app.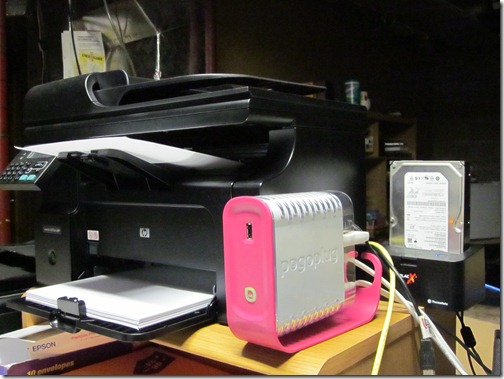 If you are interested in a network attached storage device that can also be used to share files over the Internet or give you limited access to them over the Internet, then the Pogoplug is a 10. It just works and works well. I really like it for that purpose and will use it a lot. I am going to back up my files using the Pogoplug instead of my second hard drive on my desktop so that the files will be accessible to all my computers without sharing drives on any of them. Also, it will be nice to have access to my video or picture files when away from home and if I want to share home video or pictures with family, I will use Pogoplug. Sending pictures or documents to the device for backup is great. So, again as a network/personal cloud storage device it is a huge win. Also, if you want to use it as a Wi-fi device you can. It is not as fast, but finally, after recent updates it works.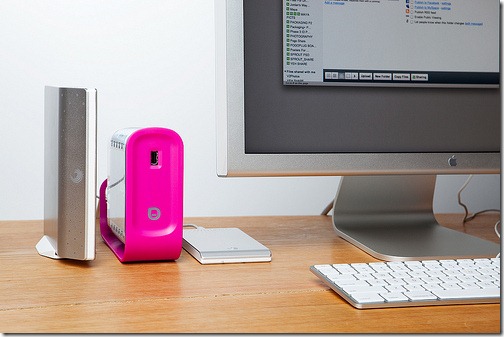 If you want to share printers over your network just get a router than has a USB port or buy a printer with a networking built into it. If you want to print from an iOS device, then try another app like the PrinterPro app. When Pogoplug gets my printers working I will write about it. Until then don't expect printing support with the Pogoplug yet.
Pros:
Great for network backup
Takes many hard drives/flash drives and combines into one interface
Fast over wired network
Wi-fi is nice if you can't go wired
Sending files via email works well
Accessing files over the Internet
Sharing with friends/family is easy
Tech support is responsive
Cons:
Printing features don't work for some HP and Epson printers yet
Wi-fi speed is a little slow
Occasionally files downloaded via Internet were corrupted
Advertisement