Great news for Dropbox users who have a .edu email address. The file syncing and online storage tool announced that it would be giving out 500MB credit for referrals that come from a .edu email address. This means if you have a .edu address and refer a friend, you'll get an an extra 500MB of storage.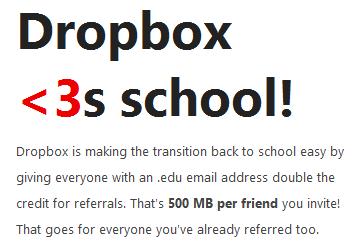 Even better, the credit is retroactive, so that means you'll get a bump for all of the referrals you already have, and you don't need to have a Dropbox account tied to your school email address by default to make this work.
To gain the .edu bump you need to visit the Dropbox Education landing page and enter the .edu address you want to verify. DropBox will then send you an email to verify and you're good to go.
If you aren't familiar with Dropbox, this file syncing and cloud storage tool made our Must have back to school software list because it can keep your files in sync across multiple devices including computers, smartphones and really any computer with Internet access.
DropBox just released a Dropbox BlackBerry app and updated apps for the iPhone, iPad and Android.
Advertisement