Samsung recently released the Samsung Fascinate for Verizon Wireless, which is the company's latest installment of the Samsung Galaxy S brand. This 4-inch Android-based smartphone is one of Verizon Wireless's first high-end Android devices that doesn't sport the Droid branding. Like the other smartphones in the Galaxy S line-up, the Samsung Fascinate has Samsung's acclaimed Super AMOLED display. However, unlike the Samsung Captivate or Vibrant, the Fascinate has an LED flash with the camera. Though reviewers were fairly impressed with the Fascinate's hardware, its software is an entirely different story.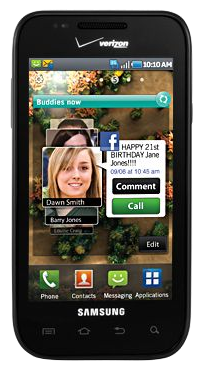 Samsung Fascinate Specs and Features:
Android 2.1 (Eclair) Operating System (Android 2.2 Froyo is supposedly coming)
Samsung TouchWiz UI
4-inch 800 x 480 Super AMOLED Display (Capacitive Touch Screen)
1GHz Cortex A8 Hummingbird Processors
512MB of RAM
2GB of internal storage
16GB microSD care pre-installed, expandable to 32GB
802.11b/g/n WiFi
Bluetooth 3.0
GPS
5.0-megapixel autofocus camera w/LED flash
720p HD video recording
Swype keyboard
3G Mobile Hotspot capable with support for up to 5 devices
DLNA via AllShare
ThinkFree Office
Samsung social networking widgets
Bing Search
Bing Maps
The Samsung Fascinate is currently available from Verizon Wireless for $199, after $100 mail-in rebate and new two-year contract.
Samsung Fascinate Review Roundup
Generally, those who reviewed the Samsung Fascinate found it to be a solid Android smartphone. When compared to other Galaxy S phones for other carriers, the Fascinate seems to have resolved many of the outstanding issues, such as battery life and heat. One major complaint is that the Fascinate comes preloaded with Android 2.1. Many reviewers also noted that Verizon Wireless has crippled the phone's software too much. The company preloaded the Fascinate with Bing search instead of the default Google search found on pretty much every other Android smartphone.
Engadget – Samsung Fascinate review: "It's not that the device isn't a solid phone or a reasonably capable Android representative — it's just that Samsung and Verizon have made far too many compromises on this device to class it with something like the Droid Incredible or the Droid X (though we have complaints about the latter device's software as well). Unfortunately, the Fascinate (and perhaps the entire line of Galaxy S phones) are a byproduct of Google's ongoing fragmentation issues and seeming lack of focus for the Android platform." – Joshua Topolsky
Gizmodo – Samsung Fascinate Lighting Review: When Greedy Carriers Ruin Decent Phones: "The Fascinate is a sad emblem of what happens when a carrier's worst instincts and moneylust run unchecked (those big branding deals are worth millions). Piled on top of the occasionally horrific aesthetic liberties Samsung's taken with Android, it's an abomination. And yet, these things are totally acceptable because of Android's openness. It just sucks that in this case, it's working against users, not for them.
If you're looking for an Android phone on Verizon, you're far better off with either the Droid Incredible or Motorola Droid 2. If you're looking for a Galaxy S phone, you're far better off switching carriers." – Matt Buchanan
Brighthand – Samsung Fascinate Review: "The deck of Verizon applications, the impressive battery life, and lack of issues with heat leads me to believe that Verizon might have done best to wait so long to bring their variant to market.
I do think that taking away Google Maps for VZ Navigator was a bit of a power grab on Verizon's end.
I would have no qualms in recommending the Fascinate to anyone who is interested in a Galaxy S device, prefers something that looks like an iPhone, but wants the service quality of Verizon." – Antoine Wright
Slashgear – Samsung Fascinate Review: "The Fascinate is undoubtedly the best phone Samsung has made on the best network in the US right now, but the carrier's DROID focus means the Samsung is perhaps not receiving as much love as it deserves. We'd pick the Fascinate over the DROID X, and while we'd miss the Motorola's physical buttons, the Samsung's stronger camera performance and better display would be ample compensation." – Vincent Nguyen
CNET – Samsung Fascinate (Verizon Wireless): "Sleek and powerful, the Samsung Fascinate is another strong addition to Verizon's Android lineup. Its user interface won't appeal to everyone, particularly seasoned Android users, but it's a good smartphone for the masses." – Bonnie Cha
DroidLife – Samsung Fascinate Review: "The Samsung Fascinate doesn't disappoint in look and feel, but the custom OS skin, lack of Google experience apps and Android 2.1 are a pretty substantial turn-off at this point.  We understand that the phone will get Android 2.2 someday, but until then we're not ready to adopt our new Verizon Android relative.
It has an amazing screen and specs to put many phones to shame, but it's just not ready to play with the big dogs until it gets one major OS update, a Bing removal and a LauncherPro installation." – Kellex
Geek.com – Review: Samsung Fascinate for Verizon: "If you aren't going to do a bunch of UI customizations on your phone and you're a big consumer of video and photos then I don't see how you pass the Samsung Fascinate up. Especially, when you note that the Fascinate is lighter than the Motorola Droid phones. If you want to do a bunch of customizations to the UI and aren't as concerned with screen quality then the Fascinate is not for you." – Brian Osborne
PhoneArena – Samsung Fascinate Review: "When it comes right down to it, there's a lot we like about the Samsung Fascinate, mainly its styling and hardware, such as the impressive Super AMOLED screen and 1GHz Hummingbird processor. But at the same time we feel that the software, mainly the TouchWiz UI, is holding the device back. While we can appreciate what Samsung attempted to do with the UI, it in turn makes the Fascinate feel less like an Android phone, and with the addition of the Bing search, one might mistake the device for a Windows Mobile phone upon first glance. At this point, we can only hope that the Android 2.2 update will soon give the Fascinate that Google feel" that people expect when using an Android device, because it's lacking that feeling right now. But if you are OK with that, or plan to use something like LauncherPro to allow for more customization of the home screens, then the Fascinate is one device that's hard to beat." – PhoneArena Team
Advertisement