Adobe released new versions of Photoshop Elements 9 and Premiere Elements 9, its consumer photo and video editing software, for both Windows and Mac users. The two programs can be purchased as individual applications or as a bundle.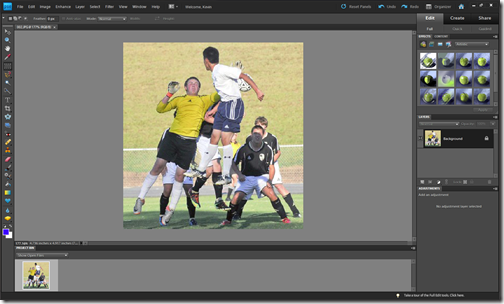 One of the new features in Photoshop Elements 9 is the Content Aware Fill feature, which naturally fills in areas of the images when undesirable items are erased.   Also included are some new wizards which will walk a user through certain complicated editing features. Other improvements include a tool that gives images a 3D effect and simpler retouching tools.

Premiere Elements 9, the video editing software, users will find tools for automatically fixing audio problems in videos, automatically trimming out bad footage, and easy fixes for color and lighting problems. There is a new feature that can turn video into a cartoon-like scene. And finally, editing HD video is said to be much improved. Editing some formats of HD video was a real weakness in the previous version of Premiere Elements.

The package as a whole has an integrated video and photo organization tool. The Auto-analyzer will help users tag their photos and videos with names of people and places shot. Also video and photos can be more easily combined into what Adobe calls an online DVD-like viewing experience" for sharing with others.
Here is a demo of another of the new features in Photoshop Elements 9.
The Adobe Plus service gives users cloud storage of their pictures and videos, up to 2GB for free or 20GB for a fee. The backup feature will automatically send files to the Plus storage space.

The applications will be available at Adobe.com and retail stores for $149.99 ($119.99 after a $30 mail-in rebate) as a bundle or $99.99 ($79.99 after a $20 mail-in rebate) for each application. The Plus service can be added for another $49.99 from within the programs or for only $30 more if you buy it up front.. There will also be student discounts and upgrade prices. Buyers will get a $20 credit with Shutterfly the online photo sharing service.
Advertisement