Today, Sweden-based Handheld Group announced the newest addition to their rugged computer lineup, the Algiz XRW. The company claims that this 10.1-inch notebook "redefines the world of rugged mobile computing."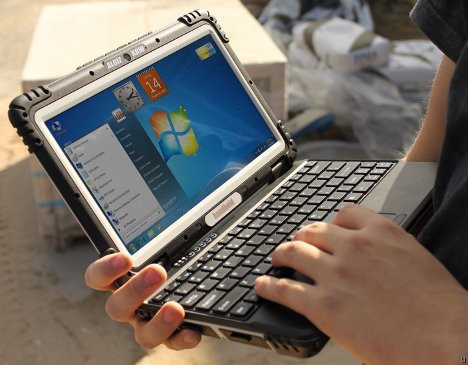 The Algiz XRW is a full-featured notebook that runs Windows 7 Ultimate. However, unlike most other notebooks, this one can supposedly handle extreme environments. The Algiz XRW carries a IP65 rating against sand, water, and dust. Additionally, it withstood drop tests of nearly four feet and temperatures from -21 °C to 70 °C.
Aside from the ruggedness factor, the Algiz XRW sports a 2GHz Intel Atom processor, a 64GB solid state drive, and 2GB of DDR2 RAM. The notebook's 10.1-inch widescreen display features sunlight-readable MaxView screen technology, making it a viable option for outdoor use.
The Algiz XRW was built with mobility in mind. Aside from the small form factor and weight of only about 3.3 pounds, the notebook comes with an array of wireless options. It features bluetooth, WLAN, GPS, and optional 3G. The 3G can provide GSM/UMTS/EVDO data transmission along with Gobi 2000 technology, which allows the user to choose what wireless frequency they would like to use. The Algiz XRW also features a 57.6 Wh battery that operates for up to 8 hours on a single charge.
The Algiz XRW is available for order immediately, with the first customer order shipping in December.
Want a little more power? The Getac V200 offers an Intel Core i7 processor and the Panasonic Toughbook F9 offers an Intel Core i5 processor. Both of these options beat the Intel Atom processor the Algiz XRW uses, but tend to be a bit more expensive.
Advertisement