KeyCase is working on a folio style iPad case that would turn your iPad into something resembling a netbook thanks to a built-in Bluetooth keyboard and stand.
In our review of the iPad, one of the complaints was that typing on the on-screen keyboard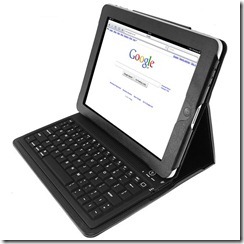 was sufficient for short documents, notes or message, but not for longer sessions. With a keyboard it was more convenient to spend extended time typing. But then you have to carry around a Bluetooth keyboard, which is not convenient. If the keyboard is decent and doesn't add too much weight to the KeyCase unit, this innovative case would be a nice addition to the iPad making  it more useful for document creation.
The device has been approved by the FCC, according to Engadget. If you are interested in getting one, it is for sale in the UK at GearZap for 60 British Pounds. From the pictures it looks like a user can hold the iPad up at a decent angle for viewing while typing. Here is the bulleted list of features from GearZap.
Stylish & streamlined protective leather case designed for iPad.
Built-in Bluetooth 2.0 Silicone Keyboard.
Quiet keystrokes, dust-proof & spill-proof.
Durable Leather Style Exterior.
Magnetic fastening secures case closed.
Rechargeable battery lasts for approximately 45 hours per charge.
Bluetooth keyboard charges using standard Apple power cables.
Auto sleep mode when idle for 10 minutes.
Easy setup – automatically re-connects when turned on.
Advertisement