Recently, Apple pulled the Grooveshark for iPhone app from the App Store, as a result of receiving a complaint from Universal Music Group UK.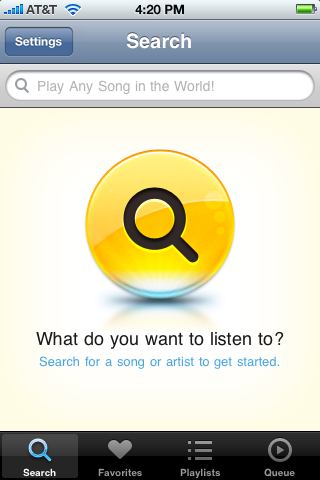 Grooveshark is a popular music streaming service that allows users to listen to nearly any song online for free. Though it has been available online for quite some time now, the Grooveshark for iPhone app had only been in the App Store for a few days.
"This comes as an absolute surprise to us, and we are not sleeping until we figure out exactly how to fix this—and get Grooveshark for iPhone back in the App Store," Grooveshark wrote in a blog post. "Above all, our biggest concern is damaging the service we provide to all of you guys—our loyal (awesome) users."
The Grooveshark for iPhone app allowed users to take full advantage of playlists, favorites, search, and "play any song". However, the most notable feature of the Grooveshark app was the included offline caching, which allowed songs found on Grooveshark to be played while the iPhone is in airplane mode. Those who were lucky enough to download the application prior to its demise will be able to continue using it.
Though Grooveshark seems oblivious to the reasoning behind this recent activity, some speculate that copyright infringement and licensing issues may be the root of the problem.What sets Grooveshark apart from other music streaming services, such as Pandora and last.fm, is the fact that you can choose the specific songs you wish to listen to, rather than creating a station with similar songs and artists. Though this is a great and useful feature, it may be the source of Grooveshark's recent issues with Universal Music Group UK.
Grooveshark stated later in their blog, "We're going to keep working hard to provide the best services we possibly can across the web, BlackBerry, Android, Palm WebOS, Symbian, and everywhere else you love your music—including the iPhone." One way Grooveshark could have a mobile presence on the iPhone and other devices would be to develop a mobile, HTML 5 version of their website. This would allow them to bypass the politics involved with App Store. However, it may only be a matter of time before Universal Music Group UK comes after the company itself, and not just its iPhone app.
If you want the Grooveshark for your non-Apple smartphone, it is available for Android, BlackBerry, Palm, and Nokia devices.
Via PCMag, Grooveshark Blog
Advertisement