Belkin's wasting no time in getting iPhone accessories out to the masses. The company announced several cases and accessories, included an Acrylic Case with a kickstand to prop up your iPhone while you watch videos. For the athletic types there's the Belkin Sport Armband and for those who like to keep it sleek there's Belkin's Slim-Fit Case.
Belkin is also selling a headphone splitter and stero cable adapters that are specially designed to fit in the iPhone's inset headphone jack.
The Belkin iPhone cases will retail for $29.99.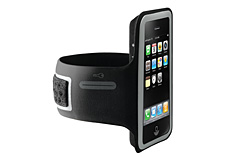 Advertisement