Here is a quick tip that I discovered today while I was doing some iPhone camera testing. Email is one of the best methods for sending photos to friends or quickly getting just a few images from your iPhone. Unfortunately for some reason, the obvious way of emailing photos has a limit of 5 photos per email, and they are downsized from their full quality of 1536×2048 (on the iPhone 3GS) to 800×600. This represents a large decrease in quality. For some reason, Apple likes to put strange and seemingly arbitrary limitations on a lot of functions of the iPhone — the reason for which is another discussion for another time….
Here is th obvious way to email photos (and the way that results in a limit of 5 per message and lower quality):
Launch the Photo app
Click the icon at the bottom left
Select up to 5 photos
Press the share button and select Email
This will launch the Email app and insert the low quality photos into the body of the message
If you want to remove the 5 photo limit and email at the highest quality, you'll want to take a slightly different approach.
Launch the Photos app
Click the bottom left icon and select up to 16 photos (see note below)
Launch the Email app and begin a new message
Tap in the body of the email and you'll see a small Paste" button pop up Click it, and voila!
Now you have all of your photos in the body of the email (and in high quality.) You may notice that only 5 photos are fully displayed in the body of the text, while the rest are represented as icons… have no fear, they'll show up fine on the other end. Here is a zoomed in version of the same image which has been emailed using both methods (click to enlarge for comparison.)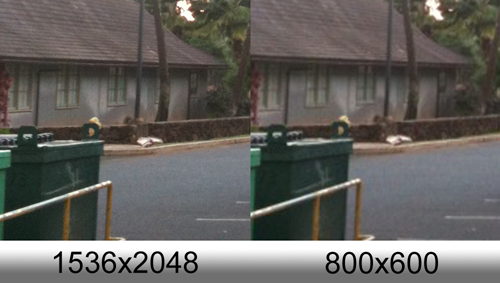 Note: Presumably you'll be able to mail as many photos as the iPhone can handle in it's clipboard, which may be or may not be dependent on the RAM. I've only been able to get a maximum of 16 photos to email at a single time on the 3GS, this number may be less on the 3G and older models which has less RAM.
Advertisement