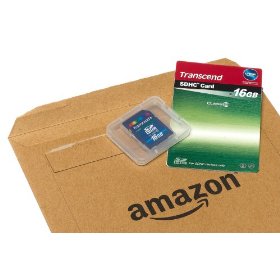 Amazon is doing something that should be common sense: Removing unnecessary packaging and shoving the gadgets in an easy to open package.Frustration Free Pacakaging is a multi-year initiative to rid Amazon.com of clamshells and other idiotic enclosures that take forever to open.
The company is rolling this out with 19 products (Transcend memory cards, Microsoft mouse and a bunch of toys), but Amazon founder Jeff Bezos hopes their entire catalog of products will be frustration free in the coming years.
All I have to say is THANK YOU Amazon. This is the best innovation the company's had in the past couple of years. If Bezos can lean on manufacturers to make "frustration free packaging" a norm in the electronics industry he will be my new hero.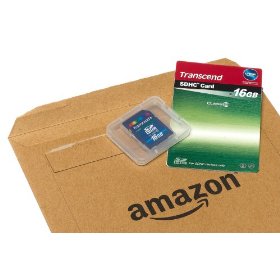 If you've bought a memory card or nearly any other small gadget you're probably familiar with the dreaded clamshell, a nearly impenetrable plastic case that splinters into sharp shards when you open it. Some are easy to open with scissors, but others are a real pain to open. It's easy to cut through instructions, warranty cards or installation CDs when trying to open them. And I don't know about you, but I don't keep a pair of scissors handy all the time, which means I have to bite, claw and scratch my way into these things.
The products are being packaged for Amazon by the manufacturers in the Frustration Free Packaging, which means you'll get everything you would normally expect with normally packaged products. It also means nobody at Amazon will have the daunting task of undoing clamshell after clamshell and repackaging them.
Of course the Frustration Free Packaging is better for the environment. Recyclable cardboard and paper is used instead of over-sized plastic.
Amazon put together this video to demonstrate the difference between traditional and frustration free packaging. -> link to video

I hope that Amazon finds this test successful and that Best Buy and other retailers follow suit. Retailers demand that SanDisk, Transend and all use clamshells to cut down on shoplifting, but there's got to be a better way and I think Amazon just found it.
Update: I was just opening some accessories that Seagate and Monster sent me while I was eating lunch with my dad. I was using my Smith and Wesson pocket knife to cut through the clams shells and my dad mentioned that it looked dangerous and wondered how many people hurt themselves trying to do that.
I found this article from CBC that says packaging is more dangerous than I would've guessed.
The verdict is in. The consequences are serious. Packaging equals injuries. Believe it or not, in the U.S., it's estimated about 300,000 people a year visit hospital emergency rooms after wrestling with their wrapping.
Here's the full "Frustration Free Packaging" press release from Amazon
Amazon Announces Beginning of Multi-Year Frustration-Free Packaging Initiative

SEATTLE–(BUSINESS WIRE)–Nov. 3, 2008–Amazon.com has launched "Frustration-Free Packaging," a new initiative designed to make it easier for customers to liberate products from their packages. Amazon is focusing first on two kinds of items: those enclosed in hard plastic cases known as "clamshells" and those secured with plastic-coated wire ties, commonly used in toy packaging.

Frustration-Free Packaging is being launched in the U.S. with 19 bestselling products from leading manufacturers including Fisher-Price, Mattel, Microsoft and electronics manufacturer Transcend. The product is exactly the same – Amazon has just streamlined the packaging. The project will expand across Amazon's international sites beginning in 2009.

"I think we've all experienced the frustration that sometimes occurs when you try to get a new toy or electronics product out of its package," said Jeff Bezos, founder and CEO of Amazon.com. "It will take many years, but our vision is to offer our entire catalog of products in Frustration-Free Packaging. We'd like to thank Fisher-Price, Mattel, Microsoft and Transcend for working with us in this effort – we truly appreciate it."

In addition to making packages easier to open, a major goal of the Frustration-Free Packaging initiative is to be more environmentally friendly by using less packaging material.

One of the first products to launch with Frustration-Free Packaging is the Fisher-Price Imaginext Adventures Pirate Ship, which is now delivered in an easy-to-open, recyclable cardboard box. The new packaging eliminates 36 inches of plastic-coated wire ties, 1,576.5 square inches of printed corrugated package inserts and 36.1 square inches of printed folding carton materials. Also eliminated are 175.25 square inches of PVC blisters, 3.5 square inches of ABS molded styrene and two molded plastic fasteners.

Small items, such as memory cards, are also good candidates for Frustration-Free Packaging. Typically encased in oversized plastic clamshells to deter shoplifting, memory cards are then placed inside larger cardboard boxes for shipment to customers. Working with Transcend, Amazon has eliminated the hard-to-open clamshell and the need for an additional box. Instead, the cards will now ship inside recyclable cardboard envelopes which use less material. Amazon is working to shrink the envelope size even further.

Customers can order select items from Fisher-Price, Mattel, Microsoft and Transcend in the new Frustration-Free Packaging for immediate delivery. The current collection of Frustration-Free products can be seen by going to www.amazon.com/packaging.
Advertisement