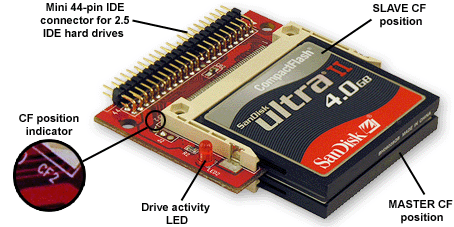 There's been a lot of buzz about Solid State Drives (SSD) in high-end specialized notebooks, but it will be some time before they are a reasonably priced option in main stream notebooks. If you're itching for some SSD action in your current notebook, take a look at Addonic's CF-IDE adapter. This setup allows users to rip out their 2.5-inch IDE notebook drives and replace them with one or two Compact Flash drives.
With the increased capacity and lowering costs of flash media, replacing the hard drive with CF as a boot drive is now a viable and advantageous alternativebecause CF offers lower power and no moving parts.
With the CF-IDE adapter and appropiate cards, users can boot their choice of operating systems, including Vista, XP and OSX. This still won't be a cheap solution and users will have to give up a ton of capacity. But if you need every last minute of battery life or work in rough conditions, this do-it-yourself SSD solution might be for you.
Plan on shelling out at least a couple of hundred bucks for the CF cards and $29.99 for the adapter.
Advertisement