In a college setting, notebooks and laptops offer the best uses to students when they go with the student to class, to the library or to the coffee shop; but too often if you peer into a dorm room you see a notebook tethered to the desk with accessories like a printer, keyboard, mouse, external hard drive, iPod cable and a monitor. This means a lot of plugging and unplugging if the notebook is to be used as a portable device but a Universal USB Dock can take a mess of cables and turn them into a single cord — simplifying the process and resulting in a more portable notebook.
The following docks work with practically any notebook from a Lenovo Y460 or an HP Pavilion to a Macbook or MacBook pro and can be used to connect speakers, a monitor and almost any USB device to your notebook with a single USB cord. You can also attach one of these docks to a netbook to extend the functionality.
HP Commercial USB Dock – $99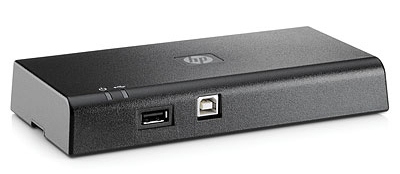 This Dock from HP works with Windows XP, Vista and Windows 7 as well as OSX and adds the ability to connect a monitor over VGA or DVI as well as the following connections: Kensington Lock, Audio In, Audio Out, RJ45 (network), (4) USB ports, Power connection. This small station can power many accessories and works great for adding a second or third monitor to your notebook. For more information read our HP US Dock Review.
Toshiba DynaDock V – $119 Retail, $79.99 at Amazon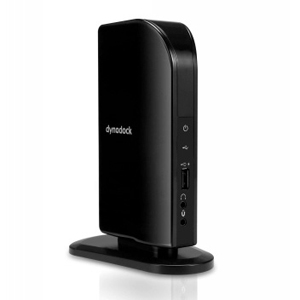 The Toshiba DynaDock V is an affordable dock that also works with Windows XP, Vista and Windows 7 as well as OSX. This standup dock is popular with students due to its small footprint which allows it to sit on the corner of a dorm room desk without taking up precious space. The Toshiba DynaDock V has the following ports: Line in(mic, Line out(headphone) One USB 2.0 port on the front and on the back an ethernet port, three USB 2.0 ports and a DVI-I monitor connection.
HP USB Media Dock – $144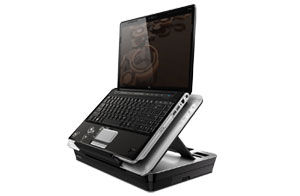 The HP USB Media Dock is a unique dock in that it includes an ergonomic notebook stand and a speaker system in the base for a full desk package that does wonders for extended computing sessions. This dock can accommodate notebooks up to 16″ on the stand and works with Windows XP, Vista and Windows 7. For more information read our HP USB Media Dock Hands On and watch our review below.
Diamond USB HD Video Adapter Plus – $99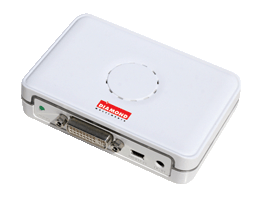 The Diamond USB HD adapter is a really small adapter that can fit behind your computer or be attached to the back of your desk with some 3M sticky tape for a one cable connection that also cleans up your computer space. This dock adds 3 USB 2.0 ports and a DVI connection that will also connect to a VGA monitor with the included adapter. Compatible with Windows XP, Vista and Windows 7 as well as OSX.
Apricorn Aegis NetDock – $89 to $179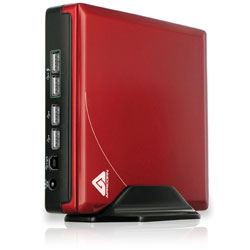 Designed specifically for netbooks this dock contains a hard drive and an optical drive as well as 4 USB ports to keep your portable computer easily portable while adding many of the items you need when using a netbook.  There is no VGA connection on this dock but it is still a tempting solution for netbook users looking for extra ports, storage and a Dual Layer DVD burner. Compatible with Windows XP, Vista and Windows 7 as well as OSX.
Other Options and Items of Note:
These universal docks are not like the docks used with some business class machines that also power your notebook so you will need to use the power cord to charge but they offer many of the other benefits and are indispensable if you like to use a mouse, keyboard and monitor with your notebook but also need to take it with you on a daily basis.
If a full docking solution is too much for you, but you don't want to be unplugging USB cords all the time a standard USB Hub which can be found for under $10 will let you reduce clutter and let you plug-in all of your USB devices to your computer with one cord.
Some of our favorites include the bare bones Belkin 4 port USB Hub, Kensington DomeHub and Macally TriHub that is powered to handle all types of devices. Pair one of these with a USB to DVI adapter from DisplayLink and you can add more monitors in an instant.
Advertisement