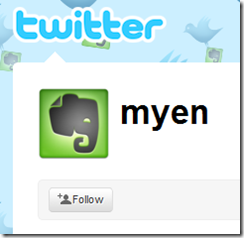 With the launch of Evernote Trunk, there are a lot of great tools that make Evernote even more useful than it already is, including the ability to integrate it with Twitter. In the Desktop & Web category of the Trunk I found this great tip on how to take things you read on Twitter and send them to your Evernote account. This may not be new, but it was new to me and I wanted to share it with you.
1. Sign into Twitter and follow @myEN. The easiest way is to follow this link and click on Follow after signing in to your account.
2. Evernote's Twitter account will automatically follow you back and send you a direct message with a link to follow. Click the link, sign into your account, and then connect your two accounts.
3. Now, to send something to your Evernote account, just send a direct message to @myEN. It will show up in your default notebook.
To make it even easier, use your Twitter client. I use Osfoora on both my iPhone and iPad. I found a tweet with a web link that I wanted to send to my Evernote account to remember for later. So I simply tapped the tweet and chose to do a Quoted Tweet, which Osfoora allows you to edit before sending. I removed all but what I wanted to send and then put d myen" without the quotes at the beginning of the tweet before hitting send. The letter d turns the Twee into a direct message to the person whose name follows the letter. As you can see from the screen grab below, it showed up in my default Evernote notebook.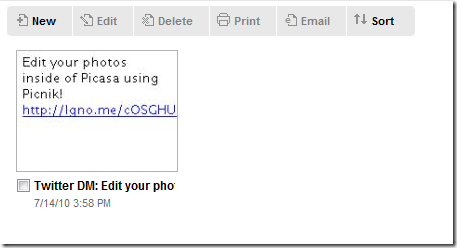 The kinds of things you might want to save are quotes, web links, pictures, or just the name of someone you want to check in to.
Advertisement