The Toshiba Satellite A665 is Toshiba's First 3D notebook computer powered by NVIDIA 3D Vision technology which delivers 3D gaming and 3D movie watching via an integrated 3D Blu-Ray Drive.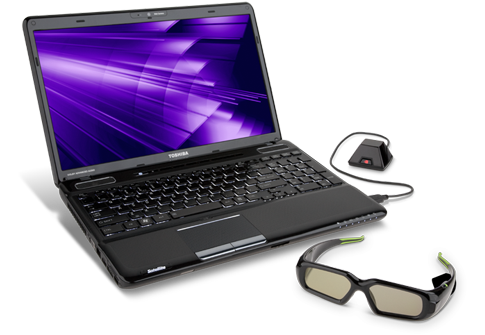 The Toshiba Satellite A665 with 3D Vision support comes in two models, the Satellite A665-3DV and the Satellite A665-3DV1; both retail for $1,599 and are  already available. The Satellite A665 3D Notebooks offer a 15.6″ widescreen display which, with a USB 3D emitter and included 3D glasses provides a 3D experience. These notebooks also have a backlit keyboard.
Hands On With the Toshiba Satellite A665 from the Sync-Blog:
The Satellite A665D is slightly more expensive than the similarly equipped Lenovo IdeaPad Y560d 3D notebook which uses ATI technology instead of the NVIDIA VISION package.
Both the Satellite A665-3DV and the Satellite A665-3DV1 have the following Specs:
Intel® Coreâ"¢ i7-740QM processor
Windows 7 Home Premium (64-bit)
15.6″ widescreen
4GB DDR3 memory
640GB HDD (5400rpm)
1GB GDDR3 NVIDIA® GeForce® GTS 350M
Advertisement