I reported earlier that I was not a big fan of the official Apple iPad case. That has me looking for something else. WaterField Designs has some potential alternatives in their new line of cases and bags designed for the iPad. There are five different cases that look very nice. Rob Bushway, over at our sister site, Gottabemobile.com, did a video review of a larger version of the Muzetto Laptop case, which is similar to the last one in this iPad case lineup.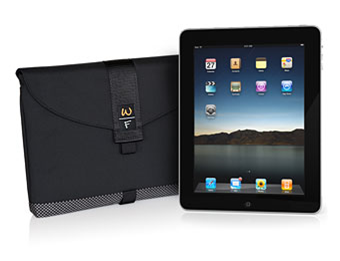 Here are the descriptions and videos from WaterField Designs:
The Smart Case
Durable nylon outer fabric lined with scratch-free Ultrasuede that also serves to clean the screen as the iPad is inserted and extracted. Brown leather sides. Impact-resistant plastic for additional screen protection. Six color choices. Very slim. Custom-fit.
The Ultimate SleeveCase
Cushioned with high-grade neoprene and wrapped in a nearly indestructible ballistic nylon shell, the iPad SleeveCase functions as a stylish stand-alone case or can be inserted into another bag. Impact-resistant plastic protects the screen. Choice of grey Indium or brown, naturally-tanned, leather trim. Optional removable Shoulder Strap and Piggyback accessories pouch available. Custom-fit.
The Slip Case
Thin and protective, the Slip Case offers light internal padding with impact-resistant plastic and a highly water-resistant, exterior fabric. Solid protection without bulk. Available in six colors. Custom-fit.
The Suede Jacket
Minimalist, snug-fitting protection against scratches and minor dings. Made from 100% scratch-free Ultrasuede that doubles as a screen cleaner. Bottom tab and side loops allow for easy insertion and extraction. As thin as it gets.
The Muzetto
The 10″ Portable size is designed for an iPad inside the WaterField iPad Smart Case or Ultimate Sleevecase; (or another large mobile device such as a tablet or netbook.) Includes pockets for chargers, cell phone, wallet, etc. Available in naturally-tanned, brown leather and a choice of six accent colors. Goodbye bulging pockets. Hello Muzetto.
These all look like much nicer cases than the official Apple case. You lose the functionality of it holding the device up for you, but that's a secondary matter to protecting the device.
Advertisement