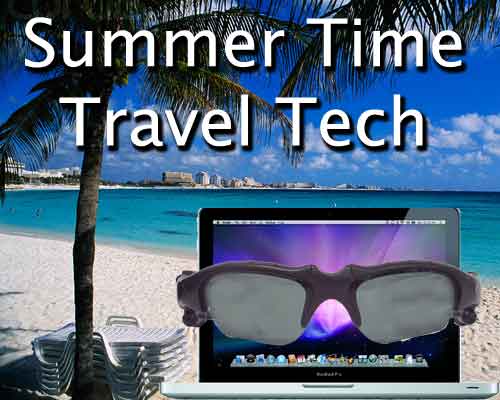 Now that summer is in full swing, we know that many of you are getting ready to take a trip to the beach, a cruise or maybe you are just going to see some family. Wherever you go, there's no reason not to record your trip with pictures and video. We've found some great and inexpensive cameras that offer durability and portability to make it easier to find the perfect camera for your needs.
For the next few days we will be examining some of the best Summertime Travel Tech. In each of these articles we will look at a particular area of technology and make some suggestions for you. Understand these are not necessarily endorsements or reviews. When we mention specific products we are simply suggesting them as examples of the kind of technology that you might want with you on the road this summer. This is the second installment of this series. The first covered notebook computers, in this edition we look at great cameras for summer travel.
What Makes for a Good Summer Travel Camera
I asked our resident photography enthusiast and chief Xavier Lanier what makes for a great summer time travel camera and he listed three things to look for; durability, a waterproof rating and quality.
First, Xavier talked about the durability of the camera. You want something that is rugged and will hold up to the rigors of travel. Durability is not just being shock resistant but heat-resistant as well.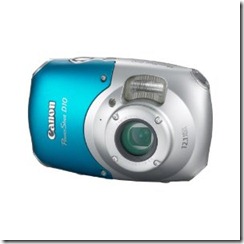 Second, our expert listed being waterproof as a good feature to consider in a summer travel camera. After all, many of your photos will be taken in wet locations like pool-side at a hotel or out on a beach. One example is the Canon PowerShot D10, which is a nice waterproof camera that can withstand depths of 33 feet and drops of up to four feet.
The third thing is image quality. Once in a lifetime trips deserve a better camera than what you've got on your phone," said Lanier. He's right, although there is another adage that says, the best camera is the one you have. I just got an iPhone 4 and it has a very nice camera. But like Lanier says, get a decent camera for those lifetime memories. You will need more than a camera that doesn't do optical zoom, doesn't shoot quick actions shots, and doesn't have the ability to tweak the settings to get good shots in difficult settings.
So what makes for a good quality" camera? In this instance it's all about the picture quality. Sure, you can plop down a few thousand dollars on a DSLR from Canon or Nikon and carry a huge bag with a load of lenses. But most people just want something basic that they can stick in a pocket and use later to quickly upload to the Internet and show their friends and family.
Things to look for in a quality camera are as follows:
Low light quality. Make sure that when your chosen camera can handle low light. You cannot always control the lighting. Our Josh Smith is 

drooling over the Sony Cybershot DSC-TX7 which according to reviews has great low light ability. It is also a very pocketable camera that shoots 1080i video.

Don't get fooled by the megapixel myth — more is not always better. The quality of the sensor (the digital equivalent of film) is more important than how big the resulting images will be, especially if you never intend to print anything bigger than an 8×10. Some cameras force more megapixels on the same size sensor compromising quality because the manufacturer wants you to believe a 15 MP camera is better than a 14 MP. Anything with 6-10 MP is more than enough for the vast majority of users. Technically a 2-4 MP camera can do great 8×10 or images that will fill your computer  monitor. If a camera has all the features you want and is rated as taking great pictures, don't fret because it is a few MP less than the model next it.
Optics. The glass in the camera lens is important. Make sure it is not cheap. Just because it has a name like Carl Zeiss doesn't mean it is great. Online review websites mentioned below will help you figure out if the camera has good optics without becoming an expert yourself.
Speed of the shutter. Some cheap digital cameras are really slow. You can miss some great action shots if you are waiting for the camera to respond to a you clicking the shutter. Also the speed of the media you put in the camera is important. Get a flash memory card (SD or CF for most cameras) that is fast enough to write your pictures quickly so you can move on to the next shot. Memory card speed is displayed on packaging with a Class rating. A Class 6 SD card is currently the fastest.
Battery life. You don't want to be investing in a ton of batteries. There is a tradeoff between a camera that has a proprietary rechargeable battery and one that takes regular batteries. Having both kinds, I would rather have a good rechargeable battery with an extra backup than a bunch of AA or AAA batteries. But find out how many shots you can get from a single set of batteries or one charge.
Video. Don't forget video quality when evaluating a camera. You will want to take some good video too while on the road and most point and shoot cameras today have this capability.
There may be others, but these tips will get you started. Do some research and you can find a great camera for not a lot of money. Since most of us are not experts, a good idea is to go to a good camera review website like one of my favorites – Digital Photography Review. They do a ton of testing and will show actual pictures and video taken with cameras for you to download, print and view online to see for yourself how good the camera is before buying. You can also go into their Forums to ask actual users about their results from a particular camera. Believe it or not I also think the user reviews on Amazon are a good source for reviews from people like you and me – not photo experts, just ordinary people using the gear.
Specific Recommendations
Recently USA Today gave some recommendations for the best summer cameras under $350." The Canon mentioned above is also mentioned on this page.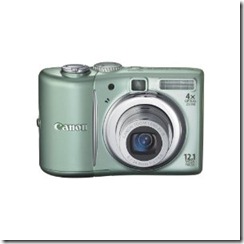 From a more personal recommendation, I have owned three Canon cameras and I would recommend all three of them as being great cameras for different users.
My Canon A590IS is a great budget point and shoot camera that takes very nice pictures. It is not as durable as the D10, but it is not one that you have to baby either. It is an older generation, but the more recent A series like the A1100IS is a good choice if you are on a budget. They are also highly rated by the buyers at Amazon.
My wife carries a tiny Canon PowerShot SD1000. But the recent model, the SD1400IS is the same camera with higher resolution images and image stabilization. It is a little more expensive than the A series. This camera is best for the total novice. It is truly idiot proof" and takes beautiful images.
For the more advanced shooter, a DSLR might be in order. While I love my Canon EOS XTi, many advanced shooters are going with Nikon these days. Xavier Lanier has a Nikon and it shoots beautiful shots. At our recent trip to the track with the Red Bull Racing team produced these fantastic images. None of these DSLRs take bad shots. But some do a better job than others. Your budget will likely be the most important factor and consider lens cost.
For a good water proof camera, Xavier Lanier suggests that you consider the Casio Exilim series. The EX-G1 is a $229 camera that is both shock resistant and waterproof up to ten feet, meaning it should survive that accidental drop (up to 7 feet) on the side of the pool or even into the pool, so long as you get it out within 60 minutes. That's right; Casio says it will resist water damage in 10 feet of water for up to 60 minutes.  And at the beach, it is "dust proof" meaning it will not let dust into the case and onto the sensor.
Another great option for taking snapshots is a Samsung Dual-view camera. The inexpensive TL205 has a screen on both the back and the front.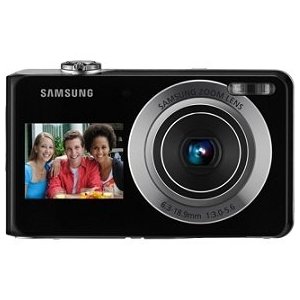 That way you can aim the lens at yourself in front of that ocean view or Mt. Rushmore and get yourself in the shot. That way when the kids are older they won't say, "Why didn't dad come with us on any of our vacations?"
Storage
The final thing to think about is film. Not the kind you may be used to where you have rolls that have to be taken to the drug store to be printed. I'm talking about the digital version – flash memory. Most cameras work with SD or CF cards. Some may use xD or MMC. If you already have a lot of one kind, you may want to invest in a camera that uses what you have. But the basic kind of flash memory cards are cheap enough that it doesn't really matter.
You will want to look for a good quality card that is fast enough to record the images onto the card while you are shooting. And there are two schools of thought. Get many small cards, so that if one gets lost or damaged you don't lose as many shots. Or get one big one so that you don't have to keep up with a bunch of cards. I subscribe to the first philosophy. I buy 2 and 4 GB cards for my cameras.  If you don't think you will lose a card, get as big a card as you can afford and plan to empty it via your notebook computer regularly.

One final option in memory cards is a great product from Eye-Fi. They make SD cards that also have a Wi-Fi transmitter in them. You can upload the pictures directly from the card to the web over a Wi-Fi hotspot. I have a 4GB Eye-Fi in my Canon AS590IS. I love it because it records the image on the card and then sends it up to my Photobucket account almost immediately. That way I can download the shots later or share a link to friends. If I meet someone on my vacation and take a picture of them I can just send them a link to the photo; no more printing and mailing them. Also, no more taking the card out and putting it in a card reader, which saves time and gets those photos backed up offsite instantly.
Do you have a favorite camera that is great for summer travel? Give us your recommendation below in the comments. And if you have a question we will try to answer it.
In our next installment of summer travel tech, we will focus on alternatives to traditional notebook computers, like netbooks, tablets, or MIDs or mobile Internet devices. And later we will do one on accessories to help with summer travel.
Advertisement