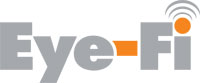 Eye-Fi officially announced a new generation of WiFi enabled SD cards that automatically upload videos from your digital camera to YouTube and Flickr. The new 4GB Explore Video (MSRP $99) and 4GB Share Video (MSRP $79) cards are available today on www.eye.fi. The new cards will be available at the Apple retail stores soon.
I've been using a 2GB Eye-Fi card for the past couple of months and absolutely love being able to wirelessly upload photos without having to pull the card out of my camera. My Eye-Fi card is synced with my netbook, home wireless network and my CradlePoint 3G router, which means my photos can be uploaded almost instantly from wherever I am.
I'm excited to try one of the new Eye-Fi cards. Ziv Gellat, one of the founders of Eye-Fi,  gave me a demo of the video card at CES 2009 and it was a really cool setup. The Eye-Fi iPhone application is another product he showed me at CES will also be available tomorrow.
While the SD card and 4GB is sufficient for most consumers, I wish Eye-Fi would come out with a high capacity CF-card so I could use one with my Nikon D300.
The older 2GB Eye-Fi cards are still available at reduced prices.
Advertisement